28 April 2013 Edition
A day apart, a world apart
Olympic star Sonia O'Sullivan sauntered past and posed for a photo with our young runners. Irish athletes Rob and Marion Heffernan, who both competed in the London Olympics, were equally receptive to photos and friendly banter
PICTURE THE SUN splitting the trees. Winds gusting strong enough to catch your breath. The fresh April air still cold enough to whisper with conviction that winter isn't long past. Picture throngs of people, milling around, mingling together, weaving in and out like bobbins on a loom. All shapes and sizes, ages and genders, people of every ethnicity. Picture the expressions on their faces from trepidation to exhilaration. Fun-seekers and record-breakers, all gathered together in an open-air communion that is one of the uplifting qualities of many outdoor sporting events.
This was what greeted my family and friends as we arrived for 'The Great Ireland Run' in Phoenix Park the day after the 2013 Sinn Féin Ard Fheis. Within the 400-year-old walls of the estate once used by English colonialists for deer hunts, a huge logistical operation was underway from early that Sunday morning. Along the main thoroughfare, crash barriers and cones marked out the routes the runners would take along the roads. Multi-coloured fabric signposts stood tall in the ground like so many stranded wind-surfers. Snack bars and gazebos jostled for space with registration points, information points, portacabins and portaloos.
An impressive programme of events ensured that everyone who wished to take part could do so. Hundreds of children ran in the junior race and an event for those aged 8 years old and under meant they were not left out. Every child who took part received a medal and a goodie bag, ensuring that the emphasis was on being involved, not being in front. Some might sneer at this but anyone who knows how well young children respond to encouragement knows that every medal makes a difference.
A one-mile race for elite athletes preceded the main focus of the day which was a 10k run around Phoenix Park. It was a truly awesome spectacle to witness a colourful river of runners cascading along the route of the race. For the most part, they stayed within line of sight while the tannoy intermittently crackled a commentary.
Last year's champion in the men's race was Kenenisa Bekele, the greatest ever long-distance runner, with three Olympic gold medals and 16 world titles: five on the track and 11 in cross-country. Bekele won the Olympic distance double in 2008, setting championship records in both the 5000m and 10,000m. He repeated his double-winning feat at the World Championships the following year — an unprecedented achievement.
He also holds the world records for the 5000m and 10,000m. Unfortunately, because of injury, he missed out on the London Olympics last year.
This year, Bekele lead the men's race from start to finish, winning in a superb time of 28:51 despite the strong crosswinds. Ukrainian Sergey Lebid finished second with another Kenyan, Ibrahim Jeilan, third.
The women's race was closely contested with Lauren Howarth finishing in 33:36 (beating defending champion Gemma Steel by 13 seconds) and Julia Bleasdale third.
North Belfast Harrier Stephen Scullion was the first Irishman home in 30.15, finishing seventh, while Linda Byrne was the host nation's leading woman in 34:24
As we watched and waited for the competitors in the 10k to pass, Irish Olympic star Sonia O'Sullivan sauntered past and posed for a photo with our young runners. Irish athletes Rob and Marion Heffernan, who both competed in the London Olympics, were equally receptive to photos and friendly banter. It was a magical milieu in which amateur and elite athletes interacted without any pretension or apprehension. 'The Great Ireland Run' was a showcase of all that's good in sport.
Now picture all that I've described happening 24 hours later on the streets of Boston.
As in the Phoenix Park, crowds of participants and spectators were gathered around the finishing line for the Boston marathon. As one man completed the epic 26-mile race, he was greeted by his 8-year-old son. Moments later, his son was killed with two other people as bombs exploded in the midst of those gathered, the carnival atmosphere at once transformed into carnage and pandemonium.
The Boston bombings were an affront to us all and an assault on the spirit of sport.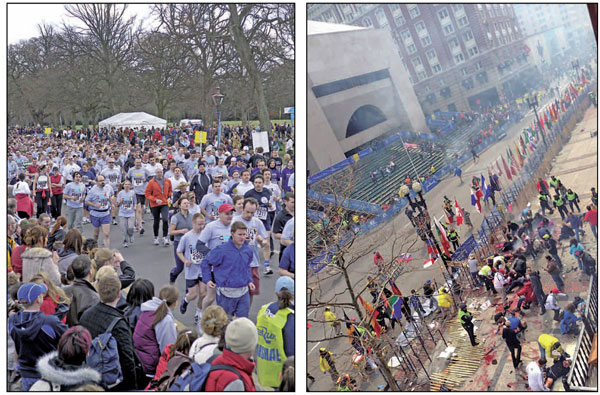 • The magical milieu of the Great Ireland Run contrasts sharply with the horror that unfolded at the finish line of the Boston Marathon just 24 hours later