28 April 2013 Edition
Mattie Ganley, Galway
Fógraí Bháis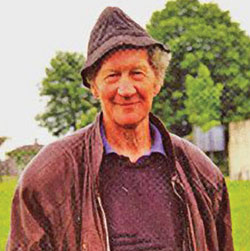 THE sad news of the passing of lifelong republican Mattie Ganley was received throughout Galway County with disbelief that our Giolla Mear had passed away at his home in Cnoc Dunloe in his native Ballinasloe.
Mattie was a larger than life man who was a father figure for south
Connacht republicans. For decades, sometimes against great odds and ridicule, he never flinched in his steadfast faith in a 32-county republic.
During his many years as national school teacher he instilled in his pupils a real sense of the true history of their country. From the Battle of Aughrim to learning songs like Boulavogue he would impart his endless well of knowledge to all those who passed through Rang a Sé at St Grellan's NS.
Bhí grá i gcónaí ag Mattie don teanga, agus is minic a  bhí sé ag
imeachtaí Gaeilge, idir díospóireachtaí, léachtanna nó tráth na gceist mar chuid de Sheachtain na Gaelge nó i rith na bliana.
His love of Gaelic games was well-known. One of his proudest visits to Croke Park occurred recently when he brought his father's 1925 All-Ireland medal with him when he witnessed his beloved Ballinasloe winning the All-Ireland junior football final against Kerry side Kenmare Shamrocks.
Mattie's republicanism singled him out for state attention. He was regularly harassed during the Hunger Strikes when he had been to the fore in supporting the prisoners' demands, flying the black flags from his home in the heart of Ballinasloe.
Mattie always encouraged everyone involved in the struggle and nominated  Councillor Dermot Connolly to stand for Sinn Féin in the 2011 Dáil election where the Sinn Fein vote increased in East Galway from 1,800 votes to 3,642.
Mattie served as a Sinn Féin councillor himself on Ballinasloe Town Council from 2010 to 2012.
The Republican Movement extends its deepest sympathy to Mattie's daughter Sinéad, sons Ciarán, Grellan and Conor, his sister Mary and also
Margaret, Sarah, Brendan and grandchildren.