28 April 2013 Edition
No one liked him... but he does care
You haven't heard the last word from Eamon Dunphy
'Sinn Féin is the most radical party in this state. There's an integrity about them that no one else on the Left has – and certainly not the Labour Party'
EAMON DUNPHY used to play soccer with Millwall, a club with its origins in London's docks and whose fans' notoriety has led them to sing: "No one likes us, we don't care."
You might think it could have been custom-made as a motto for Eamon Dunphy.
Writing for the Sunday Independent, he fitted the bill when he criticised the talks between John Hume and Gerry Adams that helped lay the groundwork for the Peace Process. Later, when Ireland and its worldwide Diaspora celebrated Irish soccer's unprecedented success under Jack Charlton, the self-confessed journeyman player from unfashionable Millwall and Ireland when times were grim, he was a lonely figure on the sideline decrying the style: 'This is rubbish!' Charlton called him "a bitter little man". Republicans called him that and more.
No one liked him. He didn't care.
Myself and photographer Mark Moloney arrive at Eamon Dunphy's door in the Dublin suburb of Ranelagh a few minutes after he gets back from being on the Pat Kenny RTÉ radio show. He's been debating with the CEO of the  Broadcasting Authority of Ireland about its new 'Code of Fairness, Objectivity and Impartiality in News and Current Affairs'. The outspoken Dunphy fears it could be "draconian" in the wrong hands. (See Robbie Smyth's view on Page 26)
Dunphy say he's been up since 5am, working on his autobiography, something he's been at for 18 months. "It's a big book," he says with his infectious laugh. "The working title is," he says, adopting the hushed tone of a serious author and looking intently at us, "Wrong About Everything." He laughs uproariously.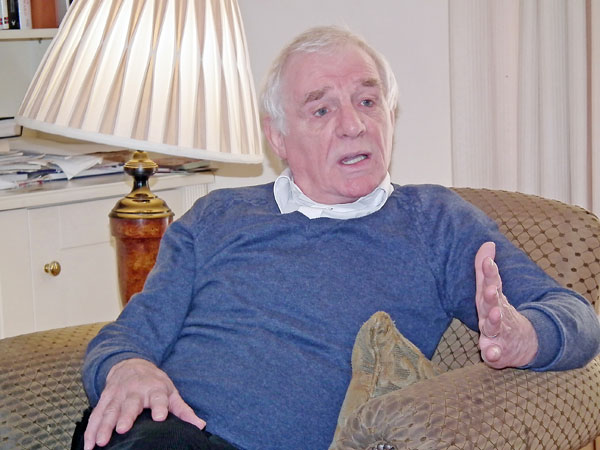 He offers to make us tea but we decline, eager to get on with the interview as he fields several phone calls – including one from a famous composer – in between.
Eamon Dunphy grew up in a one-bedroom flat in Dublin opposite Shelbourne FC's Tolka Park. His mother was from Foynes, County Limerick; his father was "a Jim Larkin man" from Kilkenny who worked on building sites in the 1940s and 1950s.
Eamon played for Ireland Schoolboys against Wales in Cork and then England in Tolka Park. On his 15th birthday, in August 1960, he went for a two-week trial at Manchester United. It was just two years after the Munich air disaster, in which eight players were among the 23 people who died, decimating the famous 'Busby Babes' team of Matt Busby. Going for a trial at Old Trafford with "the most glamorous, famous club in the world", Dunphy told RTÉ's Would You Believe, "was like going for an audition in Hollywood".
Matt Busby offered him a two-year contract as an apprentice from 1962 but, Dunphy freely admits, he wasn't good enough to play for such a great side. He went from the mighty Manchester United at the very top of the First Division to York City in the Fourth Division in 1965 before moving to Millwall. Dunphy was noted as a skilful midfielder with Millwall, staying there till the mid-1970s before moves to Charlton Athletic, Reading and Shamrock Rovers at Milltown with Johnny Giles. He won 23 caps playing for Ireland.
It was while he was at Millwall that the Bloody Sunday massacre by British Army paratroopers occurred, on 30 January 1972. Always interested in politics, Dunphy wanted to show solidarity with the people of Derry. He lobbied Irish players in England and Ireland to wear black armbands in matches the following Saturday. No one else would. Dunphy did. He stood alone. No one at Millwall said a word. "The manager was fine, the players were fine and the crowd were fine. They understood." Even the governing Football Association didn't complain, he tells An Phoblacht. What did upset the FA were Dunphy's calls for better wages and conditions for players and apprentices.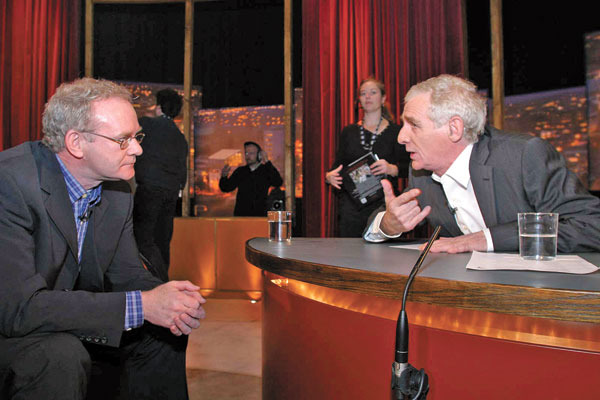 • Sinn Féin's Martin McGuinness and Eamon Dunphy on 'The Dunphy Show' on TV3 in 2003
When he was a columnist with the Sunday Independent, Dunphy was regularly critical of the IRA and Sinn Féin. He makes no apologies for that because he didn't agree with the armed struggle. He points out to An Phoblacht that he did show solidarity with the nationalist/republican people and he supported the campaign for the repatriation to Ireland of the "Old Bailey bombers" (including the Price sisters and Gerry Kelly) to serve their sentences as political prisoners. He says this simply for the record, not to impress us. Eamon Dunphy says it the way he sees it – take it or leave it, whoever you are.
"When I came home, I could be described as virulently anti-IRA. It didn't mean I didn't understand the nature of the Northern state, I clearly did otherwise I wouldn't have worn the black armband after Bloody Sunday and done other things.
"I just felt that progress could be achieved a different way. I felt that very strongly and I wrote with great hostility.
"The day of the Downing Street Declaration and the subsequent IRA ceasefire, I wrote a piece in the Sunday Independent and the last line was 'Tiocfaidh ár lá.' Rita O'Hare told me that they cut it out and put it on the wall of the An Phoblacht office," he laughs delightedly.
"The thing is, I stopped [being hostile] then. As the Peace Process developed, I came to see the Sinn Féin leadership of Adams, McGuinness, Gerry Kelly, all of those people, as courageous and what they did I think will be regarded as the greatest political achievement in Ireland of the 20th century."
• Eamon Dunphy arrives at the Mahon Tribunal to give evidence in 2008
Enda Kenny's snide remarks in the Dáil whenever Gerry Adams has him on the defensive leaves Dunphy openly contemptuous of the man who holds the office of Taoiseach.
"When I see the likes of Enda Kenny putting Gerry Adams down, or Mary Lou, I think this is crazy. This mouse, this village idiot – and you can quote me on that – and he's talking without any respect for a man who has delivered so much in political terms.
"My view is that Sinn Féin is the most radical party in this state. Some of their representatives are incredibly hard-working, incredibly intelligent and well-informed. There's an integrity about them that no one else on the Left has – and certainly not the Labour Party."
He doesn't agree with all of Sinn Féin's priorities, such as a united Ireland. "I don't see it happening, certainly not in my limited lifetime," he chuckles, "but it may happen."
It's the party's activity on social justice issues and its work on the ground ("caring for constituents") that earns Dunphy's admiration and support. He recalls being at an event organised by Sinn Féin's Eoin Ó Broin in Dublin Mid-West on the pyrite issue. "They are the guys getting things done, they are the guys working with the working poor and the oppressed."
He acknowledges that he appears to have a comfortable if precarious lifestyle ("I learned a long time ago that if you want to be able to speak your mind and tell employers to go fuck themselves you need to have a few bob in the post office") but that doesn't blind him to what is happening to others.
"I have children and grandchildren, and neighbours. And they have children and grandchildren and neighbours. It's not about me doing alright. That's not the issue. The issue is: do you want to be 'doing alright' in a community that is being crushed around you and watch it being visited on your family and friends? No!
"You can't be happy in a place where there is injustice. There isn't a family in the country that hasn't lost one, two or three children to emigration. There isn't a family that hasn't run into the brick wall of a health service that doesn't function properly unless you have money."
He fears that those in charge are "repeating the mistakes of the 1920s and 1930s and we may suffer the same consequences".
Ireland doesn't really matter to the power-brokers in Brussels and Frankfurt he says, "if you're sending off these idiots to Brussels".
"Imagine Enda Kenny going into a room to fight our cause," he asks, before suggesting an unlikely team. "Send [Ryanair boss] Michael O'Leary, Gerry Adams, Pearse Doherty, Mary Lou or Martin McGuinness, someone with the intellect and the muscle to fight. Not Eamon Gilmore. Eamon Gilmore? I wouldn't send him for a bag of chips."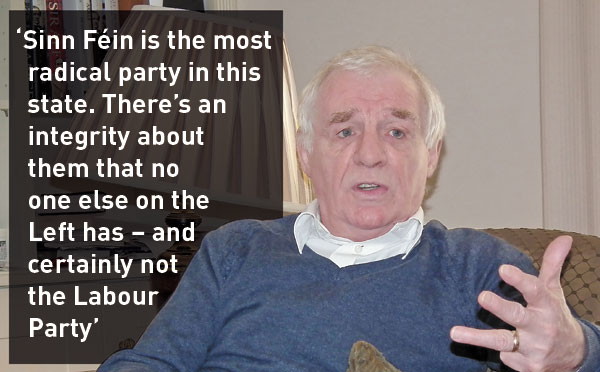 What about Eamon Dunphy TD?
"No. I wouldn't be a good deputy because I wouldn't adhere to any party's line entirely. And as an Independent you're just a stooge. I'm too independent minded and contrary in some of my views."
So what now?
"I'll finish my book and who knows. I'd like to write a great football novel. I love radio but I'm almost at the point of being unemployable because I've alienated so many people who have employment to give me.
"But I have a plan. There's the Internet. Look out for Radio Dunphy or Dunphy TV," he laughs loudly. Is he serious? "Where there's a will there's a way," he teases.
And for the country?
"I want to see Sinn Féin as the biggest party on the Left and in government in the South. That would make me happy. I am a Sinn Féin supporter," he declares with a flourish, before laughing again: "They might get a flood of resignations tomorrow from people who remember me."