28 April 2013 Edition
Principled Leadership
Gerry Adams TD's Presidential address to the Sinn Féin Ard Fheis 2013, Castlebar, County Mayo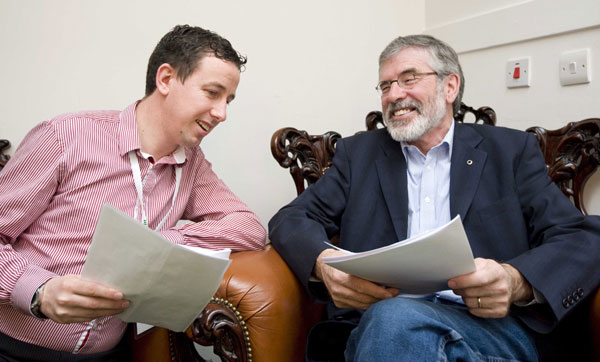 A New Republic – Stronger Together – Poblacht Nua – Níos Láidre Le Chéile
GERRY ADAMS rounded off Sinn Féin's first Ard Fheis ever in Connacht with a speech to a packed audience of 1,450 on Saturday 13 April and in a live, prime-time broadcast on RTÉ TV that posed challenges to many sections of society: to the governments, the trade unions and communities, and – not least – to unionists and republicans.
Noting that the Ard Fheis was occurring in the week of the 15th anniversary of the Good Friday Agreement, Gerry Adams said Sinn Féin is proud of its pivotal role in forging that Agreement and there would be no Peace Process and no Agreement without the commitment, initiatives and political risks taken by Irish republicans.
Nor would it have happened without "the great work of individuals like Des Wilson, Harold Good, Inez McCormack and especially Fr Alex Reid", he was keen to point out.
"It isn't a perfect Agreement but Sinn Féin secured the removal of the Government of Ireland Act, under which the British Government claimed sovereignty over the North.
"The Agreement provides for a Border poll on Irish unity. It's no surprise that the two governments are saying 'No' but Sinn Féin is saying 'Yes'. And, more importantly, nationalist and republican Ireland says 'Yes'. And we now need to work together for a 'Yes' vote.
It's time to let the people have their say on the future of Ireland. It's time for a referendum on Irish unity."
Austerity and the Family Home Tax
The core values of the Fine Gael/Labour Government, he said, are austerity and it is failing the people across a range of issues in their day-to-day lives.
Their record includes attacks on Child Benefits and home-help, carers' and disability allowances; tearing up the Croke Park Agreement; and failing to use revenue from natural resources while taking care of the banks and the still-well-off elites at the expense of the taxpayer and home owner.
"Be sure of this," Gerry Adams said. "When we make promises and commitments we keep them. Sinn Féin will put manners on the elites and the fat cats.
"Sinn Féin is totally opposed to the Property Tax. We are against plans to raid salaries, social welfare payments and pensions to get it.
"We will fight this Family Home Tax tooth and nail.  We have published legislation to scrap it.  And in government we will abolish it.
"Sinn Féin is also opposed to the introduction of water charges and will resist any legislation to introduce them."
The self-serving politics of Fine Gael, Labour and Fianna Fáil refused to share the wealth during the boom years "but they socialise the debt afterwards – they are taking from those who have least to benefit those who have most".
Public services
The mark of a real republic has to be in the quality of its public services, he said.
These include the right to a home; the right to a job; to education; to a health service from the cradle to the grave; a safe and clean environment; and to civil and religious liberties.
"This is what republicanism is about. This is what real democracy should be about. Public services delivered fairly and paid for by direct taxation.
"This should include decent childcare facilities at affordable prices. No matter what Government ministers say, no parent should be forced from their job because they earn less than the cost of childcare."
Standing up for rural Ireland
Sinn Féin will soon publish a comprehensive report, Standing Up for Rural Ireland, which outlines the need to reverse Fianna Fáil's decision to cut Garda numbers; provide a full grant to upgrade septic tanks; overhaul the CAP to create a fairer distribution of payments; and ensure that income support for farmers is directed at those who need it most.
"Creating jobs, particularly in the agri-food industry, and investing in our fishing industry are key to ensuring a future for rural communities. But people who live in rural communities also need schools, an accessible health service, decent infrastructure, public transport and an end to isolation.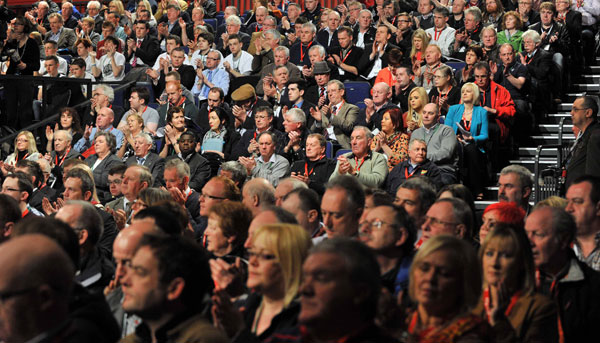 • 
Over 2,000 delegates, elected representatives and visitors pack into the Royal Theatre in Castlebar for the 106th Sinn Féin Ard Fheis
"Gaeltacht areas need active regeneration and across this island the Irish language needs to be actively promoted, including an Acht na Gaeilge in the North."
Women victims need justice
The Sinn Féin leader said that women "are among those most shamefully denied their rights under the conservative culture which has dominated this state".
He said that Mary Lou McDonald spoke for everyone when she said it was time for a full apology to "these brave women" from the Magdalene laundries.
"That happened eventually. Now they need justice. The victims of Bethany Home need justice. The victims of symphysiotomy need justice."
Savita Halappanavar's death brought into sharp and tragic focus the failure of successive governments to legislate in the X Case, Gerry Adams said.
"The people have spoken and firmly placed the responsibility upon their Oireachtas representatives to legislate on this issue. It is time doctors had legal clarity. It's time for protection for pregnant women whose lives are at risk."
The North
Sinn Féin opposes austerity across this island, North and South, he said.
"Despite £4billion of cuts by the British Government, Sinn Féin's ministerial and Assembly team, under Martin McGuinness's leadership, has prioritised finding money to maintain frontline services, protect those on lowest incomes and assist disadvantaged communities."
Sinn Féin, he repeated, is constantly working for the transfer of fiscal power to the Assembly and Executive and a harmonisation of the Corporation Tax rate across Ireland.
He said the so-called Welfare Reform Bill driven by Westminster is "another example of the English Tory agenda" and, the Leinster House deputy said forcefully: "Sinn Féin is opposed to these cuts in exactly the same way that we are opposed to the cuts being introduced by our own Tories in Dublin."
Dialogue with unionists and loyalists
The Orange marching season has begun and this year sees "the added vexation" about the flying of flags on public buildings, Gerry Adams said.
"Playing party politics with these issues is dangerous and counter-productive. There are many genuine loyalists and unionists, including former combatants, working in disadvantaged communities who realise the dangers and risks involved.
"They also know that it is citizens from these disadvantaged communities who will bear the brunt of any violent or disruptive actions.  These communities have more in common with their republican neighbours than they may realise."
He insisted that dialogue between them and Sinn Féin is essential and there is an imperative on republicans, "challenging though it may be", to build alliances on social and economic issues with working-class loyalists and unionists.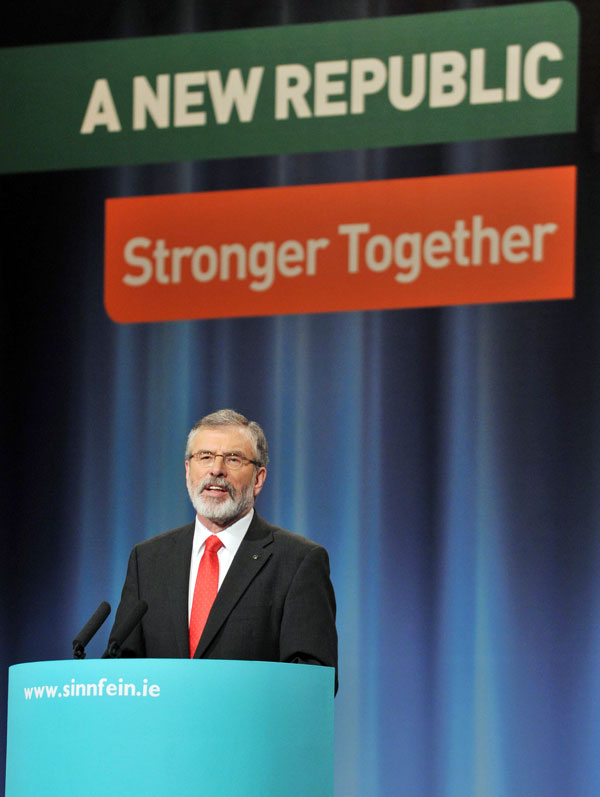 • Gerry Adams calls on the Labour Party to take a principled position and leave the coalition government
"The Protestant, unionist and loyalist people are not going away. And Sinn Féin doesn't want them to go away. They are part of what we are and we have to get to know each other better, to listen and take heed of what is being said.
"I commit our party, without preconditions, to be part of such discussions as we face into the Orange marching season, and to find solutions to contentious issues and to tackle economic disadvantage."
On justice issues, he said recent PSNI decisions have failed the test and elements within the NIO are uncomfortable with changed political circumstances.
"A Bill of Rights is long overdue. And the continued imprisonment of Marian Price and Martin Corey is wrong. They should be released," the Sinn Féin leader declared to loud and prolonged applause.
A truth process
The Tan War and Civil War of almost 100 years ago left bitterness and a legacy that still shapes politics to this day, the Sinn Féin leader said. In those conflicts, members of the Free State Army, the police and civilians died too.
"There was never any process of truth recovery or reconciliation after these events.
"Ba chóir dúinn foghlaim ón meancog sin."
In the recent conflict, Gardaí and other members of the state's forces were killed by republicans, and republicans by state forces.
"During the era of the Heavy Gang, many citizens were brutally assaulted. Innocents were imprisoned. There was collusion between elements of the Irish Establishment and the British system. Our friend Councillor Eddie Fullerton and John Francis Green and Martin Doherty and others died. There were bombs in Dublin and Monaghan and Dundalk and elsewhere. All this needs to be faced up to."
Sinn Féin has argued for the establishment of an 'Independent International Truth Commission', Gerry Adams said.
"The two governments, former combatants, and those in leadership across Ireland and Britain need to be part of such a process. There can be no hierarchy of victims."
People in the Sinn Féin leadership have met many victims and victims' families in the North, Gerry Adams pointed out.
"I am prepared to meet with victims' families in this state if they believe this will be helpful and I intend to do this in the near future. Irish republicans will not shirk from our obligations to those who died as a consequence of the conflict."
The challenge for Labour
In this year, the centenary of the 1913 Lockout, parents defending children with disabilities, frontline workers defending each other and vital public services, carers, teachers, health workers, citizens who are standing up for themselves and their communities, are showing the way.
This is a time for real leadership from parties and political activists as well as communities and trade unions, Gerry Adams said.
"A real Labour Party with a principled leadership should not be in government with Fine Gael. If Fine Gael is set on implementing Fianna Fáil policy then let them do that with the support of Fianna Fáil. Whatever the case for entry into coalition after the last election, there is now only one principled position for Labour.
"Fágaigí an bealach ag sloite na bhFiann. Stand by working people as Connolly and Larkin did. Leave this government and leave it now!
"Sinn Féin believes in the people of Ireland. Join with us in building a New Republic. Ar aghaidh linn le chéile."