28 April 2013 Edition
Family's plea: Give our daughter a chance to hear
Health Minister Reilly says issue is of great importance but 'too busy' to meet parents of deaf children
You wouldn't tell a blind person 'we can fix your sight in both eyes but we're only going to do one'
I MEET Danielle Ryan and John Sweeney at their home in Belmayne, near Donaghmede, in north Dublin. Their three-year-old daughter, Ellie, has progressively lost her hearing and is now profoundly deaf. A simple operation that comes as standard in many other European states – and also in the North of Ireland – could help change Ellie's life but Health Minister James Reilly won't engage with families who just want the best medical treatment for their young children.
Around 300 children in the South are in need of bilateral cochlear implants. In October, Ellie had an operation to implant a single cochlear implant which now allows her to hear in one ear. "As you can see, she's flying since," laughs Danielle as her daughter happily runs around the kitchen table, playing with her toys.
The HSE tells parents that it can only afford to provide one implant. If parents want their child to hear in both ears then they must turn to private healthcare, where they face bills in excess of €30,000. It's far more than most young families can afford.
"It's a race against time," says Danielle, "as the nerve isn't used it becomes less sensitive and less useful. The longer she is left waiting the less benefits she will get from the operation."
In March, Danielle and others parents from the 'Happy New Ear' campaign, which is calling for bilateral cochlear implants as standard, took their campaign to Leinster House with the help of Gerry Adams.
There, they highlighted the scandal to TDs from all parties. Speaking at that meeting, Danielle asked whether a person who was blind would be told: 'Well we can fix your sight in both eyes but we're only going to do one.'
She also hammered home the point to the audience that, even if the Health Minister was thinking purely in monetary terms, his stance makes no sense. The long-term savings of providing the procedure far outweigh the initial costs because children with just a single implant will require the help of a Special Needs Assistant in school as well as speech and language therapy.
Without bilateral cochlear implants, Ellie cannot focus in on a single sound source and finds it very difficult to communicate in noisy environments or when lots of people are talking. Danielle says Ellie will often isolate herself in a room full of people because she cannot handle all the noise and strain it puts on her ear. She also has difficulty locating where a sound is coming from. "One time I came into the kitchen while Ellie was playing with her toys so she didn't see me," says Danielle. "When I called her she ran out to the hall thinking I was out there. Because she only has one implant she can't pinpoint the direction a sound is coming from."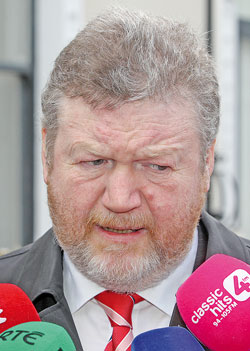 Health Minister James Reilly has not engaged with the campaign group.
"We've asked for meeting after meeting and we've gotten nowhere. He tells us he's too busy," Danielle says.
John points out that every time Reilly's office is contacted they respond with the same standard statement.
"It's almost identical to the response Enda Kenny gave to Gerry Adams when he raised the issue in the Dáil. It never addresses the fact that we want to meet and have a discussion with Reilly."
Danielle says the families just want ten minutes of the Health Minister's time.
"He admits the issue is of great importance, so you'd think he could take the time to meet with us for just ten minutes. It's not like we're going to be jumping down his throat, we want to be positive and see where he stands on it."
So what is her message to TDs, particularly those in the Government parties who have the power to change the situation.
"All I want TDs to do is to fight with even half the amount of passion they would for their own child. We understand we're in the middle of a recession but at the end of the day it is a life-changing procedure for these kids."
To find out more about the campaign for bilateral cochlear implants search for 'Happy New Ear' on Facebook