23 March 2013
1916 Easter Rising commemorated in Stormont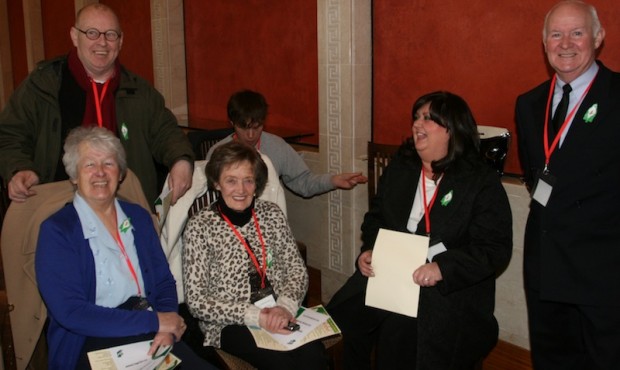 THE LONG GALLERY in Stormont echoed to the sound of republicans honouring the sacrifices of the men and women of 1916 on Wednesday 20 March when Sinn Féin's Assembly team held their annual Easter commemoration.
Songs of freedom reverberated around the marble palisades of a building more used to the hushed tones of reverential musings than those of republicans sending out a confident, upbeat reminder of just how confident we are now.
Newly-elected MP for Mid Ulster Francie Molloy chaired the event in one of his last duties as an MLA.
Sinn Féin Vice-President Mary Lou McDonald TD was the guest speaker.
Mary Lou, scheduled to deliver the main address at the main Belfast 1916 Rising parade on Easter Sunday reminded her audience of the huge sacrifices made by republicans in the struggle for freedom. She spoke of the connection between the struggle for workers' rights and the struggle to end British rule in our country, an apt connection in this the centenary year of the founding of the Irish Citizen Army by James Connolly.
Junior Minister Jennifer McCann MLA recited Pearse's inspirational poem 'The Rebel'.
Seán Bateson, Chair of the Queen's University Sheena Campbell Sinn Féin Cumann read the Proclamation.
And with a magnificent rendition of 'The Foggy Dew', Belfast singer Gráinne Holland brought the event to a close.