29 January 2013
Partition Scotland if majority say 'Yes' to independence – UUP Baron Kilclooney
'Should there ever be a majority in Scotland for independence it should not be binding on all the people of Scotland' – Ulster Unionist ex-deputy leader
SCOTLAND should be partitioned if particular areas reject independence but a majority votes 'Yes', says Ulster Unionist Party former deputy leader John Taylor, now Baron Kilclooney.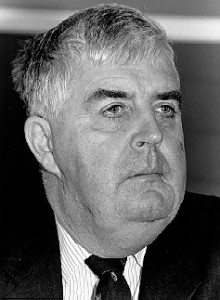 Putting forward a similar argument to the one that was used to justify the partition of Ireland in 1922, Taylor (pictured left) told The Scotsman daily newspaper:
"Should there ever be a majority in Scotland for independence it should not be binding on all the people of Scotland. If, say, Strathclyde or the Lowlands prefer to remain in the UK then that decision should be honoured by a partition of Scotland."
Meanwhile, the Earl of Caithness (Malcolm Sinclair, Conservatives) has tabled amendments to the Scotland Bill to have the independence referendum results for the Shetland and Orkney islands be considered separate from the Scottish mainland. If the islanders vote 'No' then they should keep their link with Westminster, he says.
The amendments have been described by the Scottish National Party as "bizarre" but observers think this is a bid by London loyalists to keep control of the lucrative oilfields off the Scottish coast which are now worth hundreds of billions of pounds to the British economy.
A referendum on the future of Scotland will take place in 2014. Voters will be asked whether they want to remain part of the 'United Kingdom' or become a separate, independent state.
An Phoblacht on Twitter

An initiative for dialogue 
for reconciliation 
— — — — — — —
Contributions from key figures in the churches, academia and wider civic society as well as senior republican figures