18 January 2013
Martin McGuinness: 'I'm up for a sensible debate on British and Irish identities'
'I will absolutely guarantee the right of any citizen here to their British identity. All I ask in return is for the same respect and recognition to be given to my Irishness.'
MARTIN McGUINNESS says that the vast majority of people are absolutely wedded to building a new society on this island despite the flags protests and riots and he is up for a sensible debate on British and Irish identities in the North of Ireland. "The North is simply not as British as Finchley," he says.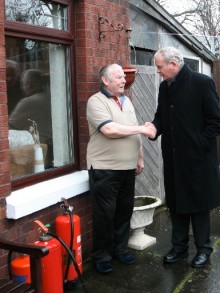 Writing in Friday's Belfast Telegraph about reaction to the democratic decision taken by Belfast City Council on December 3rd to fly the Union flag at City Hall on the same basis as the Assembly at Stormont, the Sinn Féin MLA and deputy First Minister (who is pictured right visiting the Short Strand this week after homes were attacked in Union flag riots) says:
❝The last few weeks have been bad weeks for the political process, bad weeks for the peace process and bad weeks for the vast majority of people who are absolutely wedded to building a new society on this island.
I have listened very carefully to the various reasons being put forward by those involved in the protests and in the violence. None of them can excuse what has been happening on our streets. We also must be careful not to overstate the numbers involved. Those who have been involved in attacks on the police, attacks on people's homes and businesses and attacks on political parties have been a small number.
I have long argued that there is space in the political process for all voices –  be they anti-Peace Process republicans or those unionists who claim to be disaffected at this time. What I ask, and I think it is reasonable, is that we all commit to moving forward peacefully and with respect for the political process and its institutions. We do not have to agree on anything else. The unique political structures we operate within lend themselves to political opponents being able to exercise power jointly and in a spirit of respect and equality for the benefit of all citizens.
I know from experience what it is like to feel discriminated against, to feel powerless and to feel under threat. I have no desire to see any citizen in that position and the political reality is that none should be in that position in 2013.
Democratic compromise is not about discrimination: it is about how we can explore common ground and upon that build trust between our communities.
In the implementation of the Good Friday, St Andrews and Hillsbourgh Agreements, to which we are absolutely committed, we need to be careful that we avoid any redistribution of resentment or disaffection. There is neither joy for republicans in that nor indeed any future either for wider society.
There is clearly a very powerful emotional connection between identity and symbols. This goes for all of our community. That is why compromise and dialogue on these issues is so important. As republicans we have made many compromises in the pursuit of peace; likewise, unionists also. That is the nature of peace building – no section gets everything it wants but all sections can be winners.
I will absolutely guarantee the right of any citizen here to their British identity. All I ask in return is for the same respect and recognition to be given to my Irishness. For too long we have approached issues of identity as wins or losses for one community or another. That is not sustainable going forward. Our community is multicultural and diverse. That is a good thing and should be celebrated not ignored or seen as a threat.
I think we can have a sensible debate on identity going forward. I am interested to hear from unionists how they see protecting and respecting the Irish identity of their neighbours as we build a shared society and I am sure unionists are interested in how their British identity is given equal respect and protection by political leaders like me.
We already have a position that, for example, respects absolutely people's right to hold whatever passport they wish, or indeed both. The North is simply not as British as Finchley. Both the past and indeed the future remain contested. That does not mean that we can't as political leaders deliver in the here and now. I am the deputy First Minister for all people here. I respect absolutely First Minister Peter Robinson's Britishness and his unionism. However, I feel that there are those within the DUP who from recent remarks in the Assembly clearly do not afford the Irish identity and the republican position the same respect.
How can we expect young loyalists to afford their Catholic and Irish neighbours respect if some MLAs don't do likewise? I want to hear from unionism what they mean by mutual respect. I am very clear what I mean.
Successive Sinn Féin Lord Mayors of Belfast have decided to keep the Union flag in the Mayoral Chamber and added the Irish Tricolour – thereby respecting both main traditions in the city.
I am greatly dismayed that dozens of young working-class loyalists will end up going through the courts and being convicted as a result of the foolhardy decision by sinister people like those running the UVF in east Belfast or others with the politics of the BNP to bring them onto the streets to attack the police and indeed neighbouring Catholic homes.
One thing is certain: overcoming educational under-achievement or a lack of job opportunities will not be helped by criminal convictions as a result of pointless riots.
The time has long passed for these protests to end. The decision at Belfast City Hall, which was a compromise decision, has been taken.
I say to those involved – and indeed the vast majority of unionists who may be uncomfortable with the decision but abhor the violence – to engage in a real debate about identity and culture and how we best respect each other's.
Is it really by flying the Union Jack 365 days a year?
Is it really by having a flags dispute in Stormont?
Is it really by seeking to march along contentious routes?
Is it really by gerrymandering Belfast's electoral boundaries, as suggested by Ulster Unionist Party leader Mike Nesbitt?
Is it really by pretending that nationalists are unionists, or that those who are Irish are really British?
Or is it better that we as a society sit down and work out how we move forward in the sensible way with respect and equality for all identities and all cultures?
I am up for such a debate.
I am up for demonstrating in practical ways respect for identities other than my own. But all political leaders will need to step up to the mark in the time ahead. No more excuses and no more prevaricating.
We need joint action and joint initiatives. This week I have been involved in meetings with all the party leaders. I have also met with loyalist representatives and visited the Short Strand. Now I want to see action.
I will continue to work both up front and behind the scenes until the violence ends and the political process is defended.
But I am also conscious that we need to go beyond that and get down to the business of not just dealing with the past but constructing a new future based upon mutual respect and equality.
I am conscious that change can be difficult. And to some change can feel like a loss. But change based upon equality, mutual respect and parity of esteem is a win for us all.❞