17 January 2013
TD from Traveller background calls Fianna Fáil councillor's remarks racist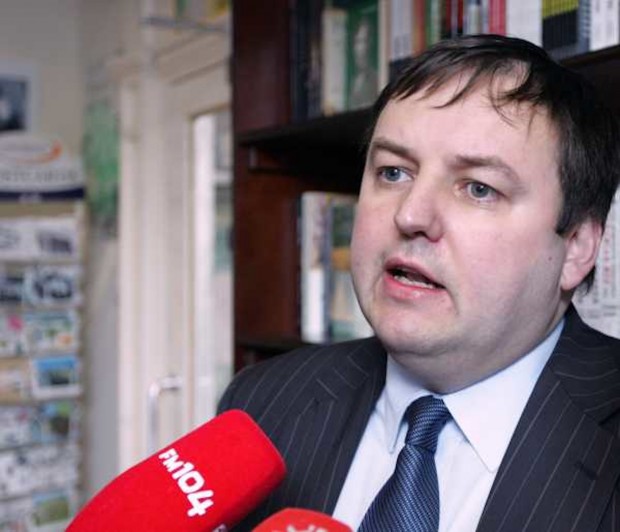 'Anti-Traveller racism is unacceptable and it is mind-boggling to think that Councillor McEniff would think ethnic slurs are tolerable.'
IRELAND'S FIRST TD from a Traveller background, Sinn Féin's Pádraig Mac Lochlainn, has described comments made by a Fianna Fáil councillor towards Travellers as "tantamount to hate speech". Donegal Fianna Fáil councillor Seán McEniff said members of the Traveller community should be housed in "isolated communities".
The comments were made following a report that Donegal County Council had spent €230,000 on a one-off social housing premises outside Ballyshannon. Councillor Seán McEniff told Ocean FM radio:
"It's a damn disgrace that the council can pay that sort of money to house those people. They'll eventually wreck the house.
"I'm quite certain those people will be able to fill their tanks with oil because they get so many benefits from the state. It's unbelievable."
He went on to describe the Traveller community in the area as "bad eggs", adding:
"You wouldn't want them beside you and I don't want them beside me."
The councillor even advocated a form of apartheid to deal with Travellers:
"There should be an isolated community of them somewhere . . . I'm calling as it is because I represent the people."
Sinn Féin TD for Donegal North-East Pádraig Mac Lochlainn called on Fianna Fáil leader Mícheál Martin to distance himself from the comments and demanded to know what disciplinary actions would be taken against his party's councillor. Mac Lochlainn said the comments are "tantamount to hate speech and have no place in Irish society".
He added:
"There is a gap between the Traveller and settled community and it is the responsibility of all public representatives to act responsibly and build trust. Anti-Traveller racism in all forms is unacceptable in Ireland and it is mind-boggling to think that Councillor McEniff would think ethnic slurs are tolerable."
Deputy MacLochlainn was raised by his mother and grandmother, who he described as "two strong, loving Traveller women".