27 August 2010
Editorial
Gangland crime
GANGLAND killings and violent crime are in the news almost every day. Like the heroin epidemic of the 1980s and the resurgent drugs problem today, it is ever-present in ordinary neighbourhoods and communities, North and South.
In this issue, Sinn Féin National Chairperson Declan Kearney and Sinn Féin Justice spokesperson Aengus Ó Snodaigh TD write about gangland crime and offer ideas on how to deal with it.
Sinn Féin's National Chairperson states unequivocally that republicans have nothing to do with gangland crime and have no truck with any former republicans who may be involved.
Declan Kearney spells it out: "Sinn Féin's position is unambiguous: it is one of zero tolerance. All criminal gangs need to be put off the streets."
By-elections and Fianna Fáil 'democracy'
THE High Court in Dublin has accepted Sinn Féin's legal challenge to the Fianna Fáil/Green Party Government's refusal to hold the Donegal South-West by-election more than a year after a Dáil seat became vacant.
The case has been scheduled for listing on October 18th with a view to having the case heard that week subject to the court's availability.
The refusal of the Government - and this includes the Green Party, remember - to allow voters their full entitlement of TDs is blatant political chicanery to save Fianna Fáil.
The Government's action is estimated to cost the taxpayer €100,000, more than holding the by-election would cost.
On the steps of the High Court, Sinn Féin Senator Pearse Doherty described Brian Cowen's and John Gormley's government as "arrogant":
It's not just the Donegal South-West by-election Fianna Fáil is in fear of; there are also by-elections overdue in Dublin South and Waterford.
There must be Oireachtas reform on removing the power from the Taoiseach on when or even if by-elections are held.
By-elections should be held within a legal timeframe and not subject to the whims of unpopular party leaders who are afraid of facing the voters.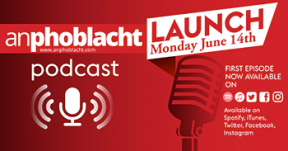 An Phoblacht on Twitter

An initiative for dialogue 
for reconciliation 
— — — — — — —
Contributions from key figures in the churches, academia and wider civic society as well as senior republican figures