19 December 2012
1 in 6 calls to Samaritans linked to recession
'There has been a real hardening of despair amongst many of those who contact us; people are struggling to cope in the face of uncertainty around employment, personal debt and other financial concerns'
THE SAMARITANS say that 1 in 6 calls they received in 2012 was recession-related, a dramatic increase on 2011 when 1 in 10 calls was linked to the recession.
"Money is an issue that seems to be causing more and more difficulty, and the nature of calls we receive reflects that," Samaritans' National Chairperson Pio Fenton said.
"This year we have seen the strongest evidence yet that the recession is affecting the emotional health landscape of the country.
"There has been a real hardening of despair amongst many of those who contact us; people are struggling to cope in the face of uncertainty around employment, personal debt and other financial concerns."
In the Samaritans' 2012 Impact Report (published on Wednesday), the Samaritans add that other common issues that arose this year were family and relationship problems; depression and mental health issues; loneliness; stress and anxiety; and abuse."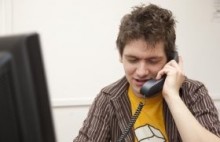 412,167 calls were received by Samaritans Ireland over the past 12 months, an increase of 3% on the same period last year.
6,912 people received face-to-face support from Samaritans over the past year, representing an increase of 17% on the previous 12 months.
Samaritans Ireland is the longest-serving national organisation working in the area of emotional support and suicide prevention. It is a volunteer-led organisation, which provides confidential, non-judgmental emotional support, 24 hours a day, for people who are experiencing feelings of distress or despair, including those which could lead to suicide.
Services are available by telephone, email, letter, SMS texts and through face-to-face support in its Samaritans' branches throughout Ireland.
The organisation also works in community, prison, hospital and school settings.
Further information about the work of Samaritans is available here.
An Phoblacht Magazine
AN PHOBLACHT MAGAZINE:
Don't miss your chance to get the second edition of the 2019 magazine, published to coincide with Easter Week
This special edition which focuses on Irish Unity, features articles by Pearse Doherty, Dr Thomas Paul and Martina Anderson.
Pearse sets out the argument for an United Ireland Economy whilst Pat Sheehan makes the case for a universally free all-island health service.
Other articles include, 'Ceist teanga in Éirinn Aontaithe', 'Getting to a new Ireland' and 'Ireland 1918-22: The people's revolution'.
An Phoblacht on Twitter

An initiative for dialogue 
for reconciliation 
— — — — — — —
Contributions from key figures in the churches, academia and wider civic society as well as senior republican figures