15 December 2012
Prince Charles reported to tax inspectors over corporation tax avoidance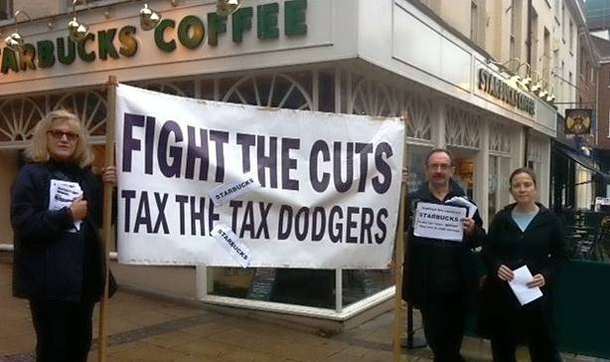 'Unlike Starbucks, Prince Charles doesn't have to create some complex network of overseas companies and offices. He simply insists that he shouldn't have to pay and hides behind his very own onshore tax haven.'
THE heir to the British throne has been reported to British tax inspectors by campaign group Republic for what has been dubbed "a well entrenched tax avoidance scheme" by his Duchy of Cornwall property empire that beats Starbucks for its audacity.
Following an investigation by Republic into the Duchy, the group has questioned why the property empire pays no corporation tax on its multi-million pound profits, which are paid directly to Charles every year.
Republic has also written to Margaret Hodge MP in her role as chair of the Commons Public Accounts Committee, asking her to investigate the Duchy's tax arrangements.
Charles has avoided corporation tax by claiming that there is no legal distinction between him and his Duchy and that he already pays income tax. However, as reported in Saturday's Guardian newspaper, an information rights tribunal recently ruled that the Duchy is a separate legal entity.
In his letter to the Britain's tax authorities, HMRC, Republic Chief Executive Graham Smith said:
"In any other corporation, shareholders, owners and employees must pay income tax while their company pays corporation tax. The company is deemed a separate legal entity which has its own tax obligations.
"As with Starbucks and Google, there is a moral obligation to pay a fair rate of tax.
"Unlike Starbucks, Prince Charles doesn't have to create some complex network of overseas companies and offices. He simply insists that he shouldn't have to pay and hides behind his very own onshore tax haven."
"The Duchy clearly operates as a separate legal entity. It is only in his possession for as long as he is heir to the throne or as long as parliament allows it.
"The test is simple: if it quacks like a duck it's a duck. The Duchy operates as a separate corporate entity yet pays zero corporation tax.
"For Charles the Duchy operates as his own personal tax haven, depriving the public coffers of millions of pounds – money that could be spent on public services. At a time when the country is under unprecedented economic stress it is unacceptable that the heir to the throne is avoiding his tax obligations in this way.
"We are taking this action as part of a renewed campaign to challenge Charles's lobbying, interference and abuse of public funds. He must be taken to task over his questionable tax arrangements.
"The Government's acquiescence in this matter raises serious questions in light of the secret access Charles has to ministers.
"Charles doesn't 'earn' the profit from the Duchy, it isn't money made as the result of his own hard work. And the Duchy cannot claim, as the big corporations do, that it offers a net benefit to the economy. The Duchy is simply a cash cow for the prince and the prince is clearly set on minimising his tax contributions."
An Phoblacht on Twitter

An initiative for dialogue 
for reconciliation 
— — — — — — —
Contributions from key figures in the churches, academia and wider civic society as well as senior republican figures