2 December 2012 Edition
Book Review 2
The Thunder roars – Celtic fanzine is back with a bang
A unique mix of Celtic news and stories, features on fan culture from around the world and the odd bit of music and politics too
THE THUNDER is a Celtic fanzine that captures the spirit of a new generation of Celtic fans, the authentic voice of fans who refuse to sit down and shut up and instead have turned Celtic Park into one of the most vibrant, go-to stadiums in European football once more.
A unique mix of Celtic news and stories, features on fan culture from around the world and the odd bit of music and politics too, it has proved popular and has had rave reviews from fans young and old.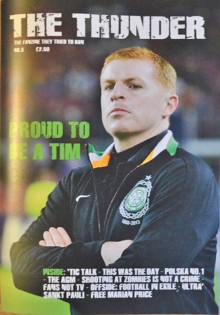 The current issue (No. 3) features the fantastic story of the Polska No.1 CSC, the Bhoys' exploits in Moscow, an interview with Ultra Sankt Pauli on their tenth anniversary, the incredible story of FK Qarabag Agdam and football in exile, plus much more.
Issue two, with features on ex-pat Celts and Belfast Celtic as well as interviews with ex-Celt John Collins and Ultras Frankfurt is available free to read online (see the-thunder.com).
£5 from all subscriptions goes directly to the Green Brigade (Celtic Ultras). Get yours at www.the-thunder.com . Copies are also available from the Sinn Féin Bookshop and Casa Rebelde in Dublin and the Derry No. 1 CSC.