2 December 2012 Edition
Book Review 3
New PANA books on Shannon, Iran and EU Battle Groups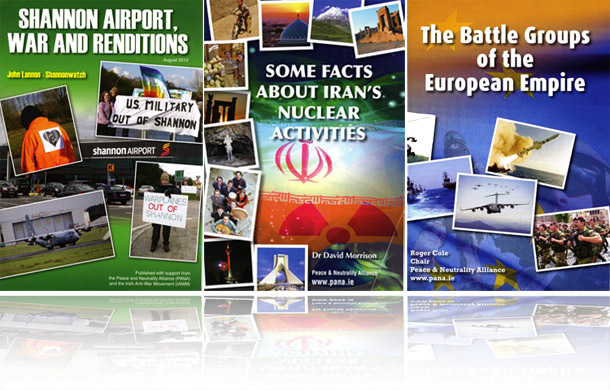 'Are we all clear that we want to build something that can aspire to be a world power?' EU Commission President Romano Prodi
PANA - the Peace and Neutrality Alliance - has produced three excellent, handy, easy to read, packed with information booklets on Ireland and international affairs.
Shannon Airport, War and Renditions
John Lannon of Shannonwatch examines Ireland's record in allowing Shannon to be used as a pit stop on the way to Iraq and Afghanistan by the US military (over 2.2million US troops in 10 years), as well as suspected CIA flights carrying kidnapped hostages in contravention of international and human rights laws.
Some Facts About Iran's Nuclear Activities
Dr David Morrison says there is no case for sanctions or war against Iran and looks at why the Western media echoes "the drumbeat of war" against Iran.
The Battle Groups  of the European Empire
Roger Cole, Chair of PANA, reminds readers that EU Commission President Romano Prodi declared a decade ago to the European Parliament: "Are we all clear that we want to build something that can aspire to be a world power?"
The "new European Empire", Roger Cole says, is the mechanism whereby the ruling elites of the old colonial empires of Germany, France, Britain, Spain, Portugal, Italy and Belgium can restore some of that lost imperial power.
Each booklet costs €3.50 (including P&P in Ireland) and each is well worth investing in to have the facts at your fingertips.