2 December 2012 Edition
Derry IRA Volunteers remembered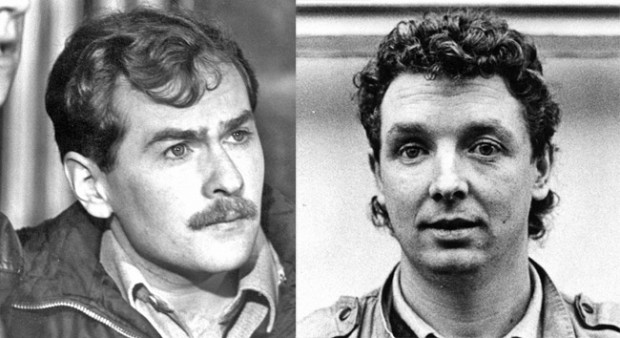 "I am sure seeing the photos and artefacts from 1987 have brought back many memories. It's hard to believe it was 25 years ago. Whilst the years have passed one thing is for sure: we have not or never will forget the ultimate sacrifice of our friends and comrades, Edward and Paddy."
DERRY CITY saw one of the biggest turn-outs in years for a local republican commemoration when hundreds of people turned out in the rain on Sunday 28 October to mark the 25th anniversary of the deaths of IRA Volunteers Edward McSheffrey and Paddy Deery.
Commemorative events were held in the City Cemetery and the Gasyard Centre. 
Liam Friel, who chaired the commemoration in the City Cemetery, said repubicans had come out "to remember with dignity and pride the memory of our comrades" and stand in solidarity with their family and friends.
"We see these commemorations as very important to ensure that the memory of our Volunteers is remembered with dignity and pride. This month also marks the anniversaries of Óglach Pat Harkin and Óglach Michael Meenan."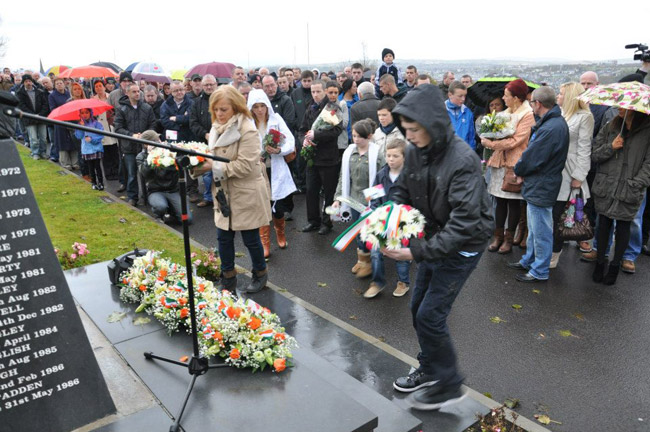 • Wreaths are laid at the City Cemetery 
Kevin Campbell and Martin Connolly read biographies of  the Volunteers. Willie Healy laid flowers on behalf of the Bogside and Brandywell Monument Committee, Stella Murray on behalf of the Creggan Monument Committee, and William McGuinness on behalf of the Republican Movement.
At a packed  commemorative event at the Gasyard Centre, chairperson Brian McCool said:
"I am sure seeing the photos and artefacts from 1987 have brought back many memories. It's hard to believe it was 25 years ago. Whilst the years have passed one thing is for sure: we have not or never will forget the ultimate sacrifice of our friends and comrades, Edward and Paddy."
• The packed Gasyard Centre event
Declan Dunne recited Bobby Sands's poem The Rhythm of Time while Martina Anderson MEP and Martin McGuinness MP reflected on the lives of both men.
A number of presentations were made to the McSheffrey and Deery families.
The event ended with Keenan Barrett singing a powerful rendition of the old Irish ballad Four Green Fields with the audience joining in. 
• 1987: The RUC attack the funerals of the two IRA Volunteers