2 December 2012 Edition
Gaza in 2020 – A liveable place?
Chief of the UN Field Health Programme for Palestine Refugees in Gaza talks to An Phoblacht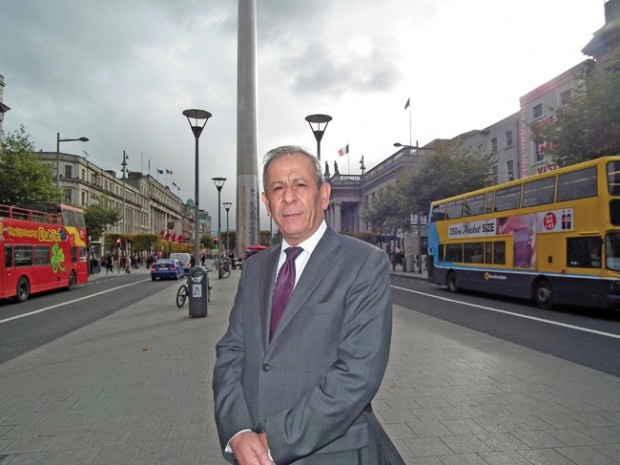 'Gaza in 2020 – A liveable place?' does not venture any opinion or forecast of the evolution of political events, nor does it offer prescriptive advice based on different political scenarios. The document does implicitly assume a peace process which leads ultimately to a solution of two sovereign states, Israel and Palestine, living side by side in peace and harmony. United Nations report
THE ISRAELI GOVERNMENT'S Transport Minister told a Cabinet meeting in November, that Israel should completely cut itself off from Gaza and end the supply of electricity, water, food and gas to Gaza residents as a collective punishment for militants resisting an Israeli Army invasion.
That a minister in a government the West considers an ally in the Middle East could call without rebuke for more misery to be piled upon a population already suffering in what has been dubbed 'The world's biggest open-air prison' is an indication of how little civilian human life in Gaza is considered by self-styled civilised nations.
Just before Israel's 'Operation Pillar of Cloud' offensive, An Phoblacht's Editor JOHN HEDGES met DR MOHAMMAD EL MAQADMA, Chief of the Field Health Programme in Gaza, in Dublin during a brief and busy visit hosted by SIPTU and co-ordinated by Paul Bell of SIPTU's Health Division. He was here to meet the Irish Government, political figures, health professionals and trade unionists about UNRWA's work and how much Ireland's aid means to Palestinian refugees in Gaza, who constitute two thirds of Gaza inhabitants.
Amongst Irish political leaders the UNRWA representative met in the Dáil were Sinn Féin Foreign Affairs spokesperson Seán Crowe and Sinn Féin President Gerry Adams TD, who published his own report of a visit in 2009 by himself and a Sinn Féin delegation to Gaza and the West Bank to see first-hand the awful conditions Palestinians are being subjected by Israeli state blockades, sanctions and attacks by Israel's powerful army and air force.
UNRWA
UNRWA (the United Nations Relief and Works Agency for Palestine Refugees in the Near East) provides assistance, protection and advocacy for some 5million registered Palestine refugees in Jordan, Lebanon, Syria and the occupied Palestinian territory, pending a solution to their plight.
UNRWA is funded almost entirely by voluntary contributions from UN member states.
The Agency's services encompass education, health care, relief, camp infrastructure and improvement, community support, microfinance and emergency response, including in times of armed conflict.
Establishment
Following the 1948 Arab-Israeli conflict, UNRWA was established by United Nations General Assembly resolution 302 (IV) of 8 December 1949 to carry out direct relief and works programmes for Palestine refugees. The Agency began operations on 1 May 1950.
In the absence of a solution to the Palestine refugee problem, the General Assembly has repeatedly renewed UNRWA's mandate, most recently extending it until 30 June 2014.
UNRWA provides education, health, relief and social services to eligible refugees among the 5million registered Palestine refugees in its five fields of operation:
Jordan
Lebanon
Gaza Strip
Syrian Arab Republic
West Bank, including East Jerusalem.
More than 1.4million refugees, around one third of the total, live in 58 recognised camps, and UNRWA's services are located in or near these areas.
 Gaza in 2020 – A liveable place?
DR EL MAQADMA is a very polite and charming man. When we meet he smiles good-naturedly and says nothing at how I make a hash of his last name and we laugh at how he struggles to pronounce Drogheda, where he is off to immediately after our interview. When he speaks about the conditions that people in Gaza are suffering, however, the soft-spoken good humour gives way to a quietly articulated but heartfelt plea for the Palestinian people who are refugees in Gaza. He is a Palestinian.
The ongoing support of Ireland for UNRWA has been highly valued and appreciated, Dr El Maqadma is keen to stress. That continued support is even more important as UNRWA faces a shortfall of $6.2million in its food aid programme. As we meet, news headlines in Ireland are reporting that €4million of Irish Aid funding has 'gone missing' in Uganda. Dr El Maqadma, who has worked for UNRWA for 30 years, stresses that every penny of funding given to UNRWA's operations has always been accounted for in audits and progress reports as well as direct feedback to donor countries and agencies. "I think UNRWA's reputation among donors is very high and we have credibility as an organisation that is delivering services on the ground in Gaza according to agreements and contracts."
The situation is Gaza is getting more and more difficult, he says.
"We have been under siege for the last five years, the economy is deteriorating and unemployment is very high."
The combined effects of the blockade are having an impact on not just people's physical health but their mental health, Dr El Maqadma says. Children and teenagers growing up in a siege situation are particularly vulnerable and the long-term negative impact on Gaza society is inestimable.
"Ours can be described as a young generation society because 51% of our population are up to 17 years old. You can imagine how young people feel if they have managed to get through school and university to find no jobs and an economy that is being strangled by the siege."
Underground tunnels between Egypt and Gaza bring in supplies for a shadow economy meeting people's day-to-day needs. Israeli fighter-bombers, tanks and artillery target them, claiming that they are used to traffic weapons. They are illegal, Dr El Maqadma acknowledges, but they are a product of Israel's blockade and an economic necessity for families. "Palestinians don't have any choice but to use the tunnels to get the needs for their daily lives."
And these are families living in inadequate housing and a war zone environment.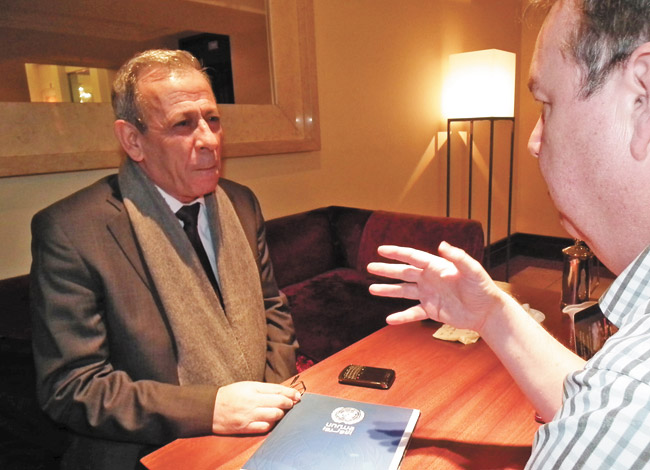 The social consequences of the siege, military attacks and the economy are getting worse for families, Dr El Maqadma tells An Phoblacht.
"Domestic violence is high. There is a huge threat in drug abuse spreading by young people feeling the effects of daily life." Addiction to tranquilisers is a major worry of his.
The psychological and post-traumatic syndrome (PTSD) effects felt by soldiers in war zones also damage civilians who are not waging war.
"Injuries people are suffering in Gaza are not only amputations of limbs from guns or bombs – we have hidden injuries too," Dr El Maqadma says, talking about mental health. "This is a permanent feature in Gaza."
On top of this, people have to cope with the daily struggle against unemployment and poverty.
Gaza faces a severe water crisis – the territory's only natural source of freshwater, a coastal aquifer, may become useless by 2016 – 90% of water from the aquifer is not safe for drinking without treatment.
Raw sewage flows directly into the Mediterranean Sea, polluting the water, creating health problems and  destroying the fish population, a natural food source for Gaza. Israel restricts fishing to an area reaching three miles from the coast. Access to agricultural land is also restricted.
Malnourishment is a key concern for the chief of the Field Health Programme. Children's physical and educational growth is being stunted by the lack of food. Even taking into account UN food distribution to almost 1.1million people, more than half the population are either food insecure or vulnerable to food insecurity. Many children leave home to go to school without a breakfast, a gap that UNRWA tries to fill. "UNRWA is providing a lifeline for the Palestinian refugees in Gaza," Dr El Maqadma says.
The Palestinian people do not want to be dependent on donor aid to live. "We need to have our independence and the freedom to generate our economy to meet our needs by our own hands, Dr El Maqadma says.
"I believe that unless the political situation is solved, then things will continue to be hard as our economy depends on a political solution."
Palestinians appreciate that the economic crisis is affecting every country and that Ireland is not a rich country, "but Ireland's commitment is one based on humanity", Dr El Maqadma says.
"The people of Palestine and the people of Ireland have both suffered from our histories; they may be different histories but they both have pain. In the last 20 years, you have achieved a lot and there is a future ahead of Ireland. We ask that you do not forget the people who are still suffering."
What the future holds for Gaza
'Gaza in 2020 – A liveable place?' does not venture any opinion or forecast of the evolution of political events, nor does it offer prescriptive advice based on different political scenarios. The document does implicitly assume a peace process which leads ultimately to a solution of two sovereign states, Israel and Palestine, living side by side in peace and harmony.
– UN Resident and Humanitarian Co-ordinator Maywell Gaylard's  foreword to the United Nations report
Population
2.13million, about 500,000 more than today (1.64m)
Water
Demand will increase by 60% and Gaza's aquifer may be unusable by 2016
Electricity
By 2020, provision will need to double to meet demand
Health Beds
800 more hospital beds needed just to maintain current levels of service
Health Personnel
Over 1,000 additional doctors and 2,000 nurses will be needed
Schools
440 more need to be built by 2020
Source: United Nations, August 2012