2 December 2012 Edition
Bribery charges may unravel Murdoch media's Ireland smears in US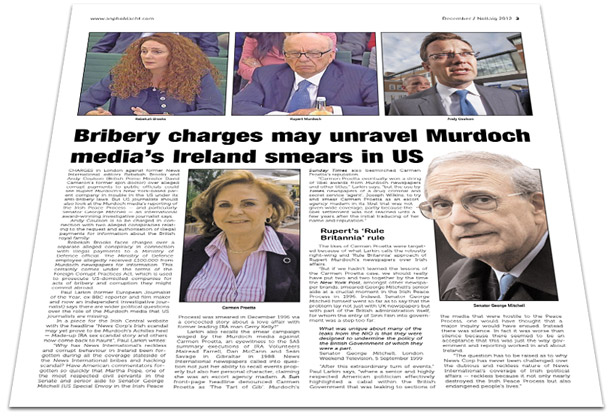 The likes of Carmen Proetta were targeted because of what Larkin calls the robustly right-wing and 'Rule Britannia' approach of Rupert Murdoch's newspapers over Irish affairs.
CHARGES in London against former News International editors Rebekah Brooks and Andy Coulson (British Prime Minister David Cameron's former spin doctor) over alleged corrupt payments to public officials could see Rupert Murdoch's New York-based parent company in trouble in the US under its anti-bribery laws. But US journalists should also look at the Murdoch media's reporting of the Irish Peace Process — and particularly Senator George Mitchell — an international award-winning investigative journalist says.
Andy Coulson is to be charged in connection with two alleged conspiracies relating to the request and authorisation of illegal payments for information about the British royal family.
Rebekah Brooks faces charges over a separate alleged conspiracy in connection with illegal payments to a Ministry of Defence official. The Ministry of Defence employee allegedly received £100,000 from Murdoch newspapers for information. This certainly comes under the terms of the Foreign Corrupt Practices Act, which is used to prosecute US-domiciled companies for acts of bribery and corruption they might commit abroad.
Paul Larkin (former European Journalist of the Year, ex-BBC reporter and film maker and now an independent investigative journalist) says there are wider political questions over the role of the Murdoch media that US journalists are missing.
In a piece for the Irish Central website with the headline "News Corp's Irish scandal may yet prove to be Murdoch's Achilles heel — Made-up IRA sex scandal story and others now come back to haunt", Paul Larkin writes:
"Why has News International's reckless and corrupt behaviour in Ireland been forgotten during all the coverage stateside of the News International bribes and hacking scandal? Have American commentators forgotten so quickly that Martha Pope, one of the most respected civil servants in the Senate and senior aide to Senator George Mitchell [US Special Envoy in the Irish Peace Process] was smeared in December 1996 via a concocted story about a love affair with former leading IRA man Gerry Kelly?"
Larkin also recalls the smear campaign waged by the Murdoch media against Carmen Proetta, an eyewitness to the SAS summary executions of IRA Volunteers Mairead Farrell, Dan McCann and Seán Savage in Gibraltar in 1988. News International newspapers called into question not just her ability to recall events properly but also her personal character, claiming she was an escort agency madam. A Sun front-page headline denounced Carmen Proetta as 'The Tart of Gib'. Murdoch's Sunday Times also besmirched Carmen Proetta's reputation.
"Carmen Proetta eventually won a string of libel awards from Murdoch newspapers and other titles," Larkin says, "but the use by Times newspapers of a drug criminal and secret service 'agent', Joseph Wilkins, to try and smear Carmen Proetta as an escort agency madam in its libel trial was not given wide coverage, partly because the libel settlement was not reached until a few years after the initial traducing of her name and reputation."
Rupert's 'Rule Britannia' rule
The likes of Carmen Proetta were targeted because of what Larkin calls the robustly right-wing and 'Rule Britannia' approach of Rupert Murdoch's newspapers over Irish affairs.
"But if we hadn't learned the lessons of the Carmen Proetta case, we should really have put two and two together by the time the New York Post, amongst other newspaper brands, smeared George Mitchell's senior aide at a crucial moment in the Irish Peace Process in 1996. Indeed, Senator George Mitchell himself went so far as to say that the problem lay not just with UK newspapers but with part of the British administration itself, for whom the entry of Sinn Féin into government was a step too far:
What was unique about many of the leaks from the NIO is that they were designed to undermine the policy of the British Government of which they were a part.
Senator George Mitchell, London Weekend Television, 5 September 1999
"After this extraordinary turn of events," Paul Larkin says, "where a senior and highly respected American politician effectively highlighted a cabal within the British Government that was leaking to sections of the media that were hostile to the Peace Process, one would have thought that a major inquiry would have ensued. Instead there was silence. In fact it was worse than silence because there seemed to be an acceptance that this was just the way government and reporting worked in and about Ireland.
"The question has to be raised as to why News Corp has never been challenged over the dubious and reckless nature of News International's coverage of Irish political affairs — reckless because it not only nearly destroyed the Irish Peace Process but also endangered people's lives."