2 December 2012 Edition
Challenging child poverty
Why is child poverty so important for me? The answer is simple: I understand what child poverty means because I was brought up with it all around me
Address to conference on 'Combating Child Poverty and Social Exclusion: Promoting Children's Well-Being in Times of Austerity' (Belfast, Friday 16 November), hosted by Sinn Féin MEP Martina Anderson and the GUE/NGL (European United Left/Nordic Green Left) Group in the European Parliament
THE European Commission announced in 2010 its intention to adopt a 'Recommendation on Child Poverty' in 2012. The EU Council Conclusions of June last year invited the Commission to put forward an EU recommendation on child poverty and child well-being "outlining common principles, effective monitoring and assessment tools".
Across Europe, there are over 25million children living in poverty. That's a staggering statistic revealing that many children are being denied access to most basic needs that should be part of human dignity. 
In the North of Ireland there are some 100,000 children living in poverty; in the South of Ireland it is a staggering figure of 31.3% child poverty. 
If addressing child poverty is not at the top of our political agendas then none of us should be elected.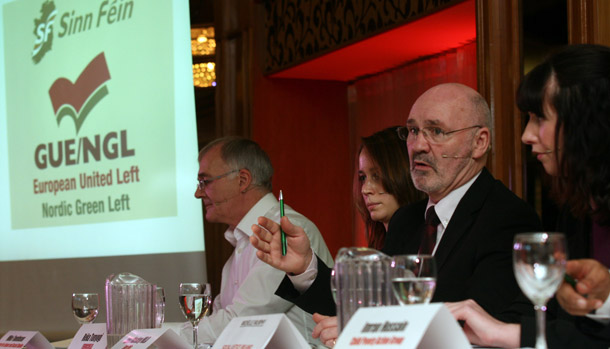 • Combating Child Poverty conference: Alex Maskey makes a point
Why is child poverty so important for me? The answer is simple: I understand what child poverty means because I was brought up with it all around me. There is nothing more debilitating and soul destroying for young people than being raised in a society that doesn't provide them with the basics of life. 
However, in our quest to do more, we need to ensure that it's not simply a numbers game. We all know and accept the measurement of child poverty as living in a family whose income is less than 60% of average income. But, in these recessionary times, child poverty figures could fall simply because the average income falls. And, as a result, while some children might no longer be categorised as living in poverty, the reality would be their standard of living had not improved. Therefore we must take account of material deprivation and I await the findings from the European Commission's work which is aimed at improving child material deprivation measures. 
Tackling and preventing child poverty as well as promoting child well-being involves action across different policy areas such as social protection, employment, health, education, social services, housing, environment and justice. 
We already know that the early years between 0-2 are crucial for children's healthy cognitive, emotional, behavioral, physical and social development. This is a most sensitive and irreplaceable period of the lifecycle when development of the brain, body and inter-personal skills are taking place and where the mid-term and long-term returns of investment many times outweigh the cost.
When the EU recommendation of child poverty is adopted it will propose common principles and monitoring in the fields of parents access to work, adequate income support and early years. This recommendation should assist with better policy development and monitoring which are areas that government departments here could utilise to further develop the Delivering Social Change Framework, the Social Investment Fund and the commitment to tackle disadvantage unfolding here. 
There is no doubt that our social and economic future greatly depends on our capacity to break the transmission of disadvantage across generations. A manifestation of such disadvantage is the appalling statistic of the level of illiteracy in the North which stands at one-fifth of the population. This is unacceptable and must change. 
Without doubt, I could get a lot of personal development in Europe. But my role in Europe is not about me nor for me — it is about what I can do there for people and, in this case, it is what I can do for thousands of children in need. We all need to develop a new way of working together for the benefit of those we collectively care about — it is about children and attempting to make it happen.