2 December 2012 Edition
'There is no room for grey areas here – women die in those grey areas'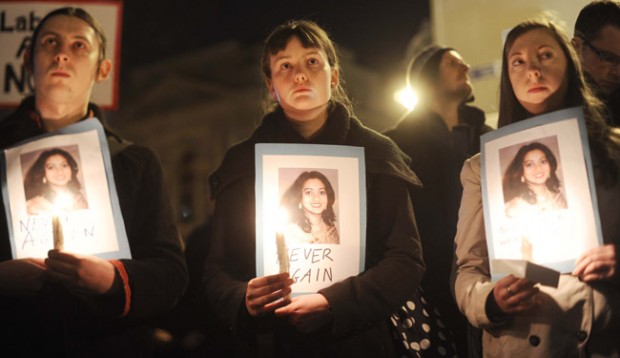 "We still have people who claim to be leaders buckling in cowardice at the fear of an anti-women rump in our society."
THE DEATH of  31-year-old Savita Halappanavar has brought the world's media attention on Ireland and has highlighted the dangerous reality that the ambiguity of the law has created.
Savita Halappanavar died in Galway University Hospital while suffering a miscarriage on 28 October. During the miscarriage she is reported to have asked for a termination after it became clear that the foetus could not survive. Her husband claims that doctors told him they could not terminate the pregnancy "because this is a Catholic country" and it was against the law to carry out an termination while there was still a foetal hearbeat. Savita died of septicemia and organ failure. Her husband says he is "in no doubt" that she would still be alive if an abortion was carried out when it was requested.
Despite the 'X Case' ruling of 1992, which found that abortion was permitted where "a pregnant woman's life was at risk because of pregnancy, including the risk of suicide", none of the subsequent six governments has ever legislated for the ruling, leaving major uncertainty within the medical profession on when it is legal to intervene.
More than 20,000 people demonstrated in Dublin, Galway and elsewhere in Ireland and at Irish embassies overseas the week that news broke of Savita's death, calling for immediate movement on the issue. Sinn Féin also used its time in the Dáil to put forward a motion which called for the publication of an expert group on abortion's report without delay and immediate legislation for the 'X Case' in accordance with the 1992 Supreme Court ruling. Mary Lou McDonald TD described the motion as "a very reasonable ask" to deal with a system that had "fudged, prevaricated and failed to act in 20 years".
Speaking during the Dáil debate, Sinn Féin Cork North Central TD Jonathan O'Brien told how this issue affected him personally:
"I do know what it's like to stand helplessly by while the life of an unborn child that I and my wife created slipped away. And I've had to do that on more than one occasion. So, despite my opposition to abortion, I believe that women are entitled to the best medical care and treatment throughout the duration of their pregnancy. I also accept that, in rare cases, doctors must intervene to save the lives of women even if by doing so it is inevitable that this will end the pregnancy . . . It is a sad but unaviodable reality. As someone who describes himself as 'pro-life', I could not in good conscience stand over a health system that would hesitate or delay, due to a lack of legal clarity, medical treatment to women when there is a real risk to their lives. To stand over that is not pro-life in my opinion, as both lives may be lost."
Deputy O'Brien also raised the issue of uncertainty within the medical profession on when doctors and clinical staff may intervene to save the life of a pregnant woman, saying:
"There is no room for grey areas here — women die in those grey areas."
Meanwhile, Sinn Féin Health spokesperson Caoimhghín Ó Caoláin used his time to rebut some of the accusations levelled at protesters and his own party for bringing forward the motion.
"I want to refute the spurious accusations that the people who have come onto the streets in the wake of this tragedy are 'opportunists'. The same accusation has been made against Sinn Féin in relation to this motion. I think it is a most insensitive accusation.
"There is no party political advantage in this for any political party and certainly none in it for Sinn Féin. The opportunist approach would be to try and avoid the issue as much as possible and there is ample evidence of this across this chamber."
Ó Caoláin also acknowledged that not all Sinn Féin members concur with the party's current stance, saying it was "a most contentious issue with widely differing and sincerely held views". Describing it as a divisive issue which cut across society, he said legislators had used that divisiveness as "an excuse for inaction". 
The Labour Party has always maintained that it is in support of legislating for the 'X Case'. In 2010, the party published a very strongly worded leaflet: 'It's time to legislate for the X Case.' Since going into government, Labour has now twice voted against motions for the Government to legislate on the issue. In the Dáil debate, Labour's Kathleen Lynch called for cooler and "wiser heads to prevail". Ó Caoláin took particular issue with the comment, saying;
"It's tantamount to saying 'leave it to your betters'. Well I have to say I'm surprised at Kathleen Lynch and I never thought I'd hear such rubbish from her here in this chamber."
Sinn Féin's Sandra McLellan (Cork East) described the state's history of dealing with women's issues as "abysmal".
"No amount of legislation can bring Savita back to life, but legislating for the 'X Case' can go some way to ensuring that this situation never occurs again," she said.
Sinn Féin TD Dessie Ellis (Dublin North-West) told the Dáil:
"We still have people who claim to be leaders buckling in cowardice at the fear of an anti-women rump in our society."
In a passionate speech he told the chamber and a packed public gallery how he had marched along with thousands of others who wanted to see change:
"This is not a lofty debate over life or morality. This is a debate on their right not to die because they are a less equal person when they become pregnant."
He went on to say that he was "ashamed" to live in a country where a girl is brought up in a place where women die because they are refused proper medical treatment. "I do not want that to be the country the next generation grows up in," he added.
The Government parties of Fine Gael and Labour voted against the Sinn Féin motion on Wednesday 21 November — defeating it 88 votes to 53 — as hundreds of protesters demonstrated outside the gates of Leinster House calling for them to support it.
Legislation in the 26 Counties
ABORTION has been illegal in the 26 Counties from the foundation of the state in 1922.
In 1956, a backstreet abortionist named Mamie Cadden was sentenced to death by hanging after one of her patients died during a procedure. The sentence was later commuted to life imprisonment.
In 1982, Sheila Hodgers, a pregnant mother from County Louth was refused treatment for cancer because the drugs and painkillers required could harm her unborn child. The refusal of treatment meant that the cancer progressed rapidly. On 17 March 1983, Sheila gave birth to a baby girl who immediately died; Sheila died two days later from multiple cancers.
Fears that the Irish Supreme Court may infer a Constitutional right to abortion in Ireland led to the 1983 Fine Gael/Labour Government adopting a Fianna Fáil amendment to ensure the procedure was not legalised in the future. A new sub-section inserted into the Constiution read:
 "The state acknowledges the right to life of the unborn and, with due regard to the equal right to life of the mother, guarantees in its laws to respect, and, as far as practicable, by its laws to defend and vindicate that right."
 The amendment was approved by a referendum with 66.9% in favour.
The 'X Case'
In 1992, a 14-year-old girl (known as 'X') who had been raped and became pregnant was prevented from having a termination in Britain by a High Court injunction. The girl had become suicidal because of the unwanted pregnancy. The injunction was overturned by the Supreme Court which found she had a right to an abortion under the Constiutional amendment of 1983 if there was a "a real and substantial risk" to her life. The ruling stated that terminations are allowed in the state where "a pregnant woman's life was at risk because of pregnancy, including the risk of suicide".
1992 referendum
In November of 1992, three amendments following on from the 'X Case' were put to the people. The outcome removed restrictions on women travelling to Britain for a termination and also removed restrictions on the distribution of information on abortion services in foreign countries.
A further amendment which proposed that abortion would be prohibited even if a woman was suicidal was rejected by the electorate.
Despite these and earlier rulings, no legislation has ever been passed, leaving doctors in what has been called 'a grey area'.
2002 referendum
Fianna Fáil and the Progressive Democrats put forward an amendment to the Constitution to remove the threat of suicide as grounds for an abortion in Ireland.
Sinn Féin, Labour, Fine Gael and others opposed the move and the amendment was defeated narrowly in a referendum on 6 March.
2012
In April 2012, legislation brought forward by United Left Alliance TD Clare Daly (and supported by Sinn Féin) would have brought the state into line with the 'X Case' ruling and European rulings if it had been adopted. The legislation was rejected by the Government.
In October 2012,  Savita Halappanavar died while suffering a miscarriage at Galway University Hospital.
In November 2012, a motion brought forward by Sinn Féin which would have forced the Government to end the 20-year delay and legislate for the 'X Case' and immediately publish the Expert Group's report on abortion in Ireland was rejected by the Government.