16 November 2012
Clashes at Palestine demo outside Israeli embassy in Dublin
Gardaí attacked peaceful demonstrators with batons outside the Israeli Embassy in Dublin on Thursday night during a protest against the ongoing Israeli bombing campaign in Gaza.
At least 19 people have been killed and up to two hundred wounded in the ongoing Israeli offensive against the besieged coastal territory which has seen Israeli forces fire rockets, missiles and heavy artillery into densely populated areas. In response Gaza militant groups have fired more than 400 rockets and missiles towards Israel, killing three people. There are reports that Israel is stepping up preparations for a full-scale ground invasion.
Around 100 people gathered outside the Israeli embassy on Pembroke Road on Thursday night to show their opposition to the slaughter. The embassy was enveloped in a massive Palestinian flag by members of the Ireland Palestine Solidarity Campaign (IPSC) while the crowd, including a number of Palestinian residents of Dublin, chanted pro-Palestinian slogans. During the protest a group of activists carrying a banner reading "Stop the Slaughter, End the Siege" began a sit-down protest on the road outside the building. 
A short time later, as protesters were standing up to leave the road, gardaí moved in and attempted to make a number of arrests, detaining two protesters. The arrests further inflamed tensions and there were scuffles between protesters and gardaí with some members of the gardaí using batons against the crowd. Both protesters, who are members of Sinn Féin Republican Youth were released without charge a short time later.
Another protest in solidarity with the Palestinian people will take place at 2pm on Saturday, 17 November, at the Spire on O'Connell Street, Dublin. Further protests are also planned for Belfast, Cork and Limerick and activists are encouraged to check the IPSC website (www.ipsc.ie) for details.
An Phoblacht Magazine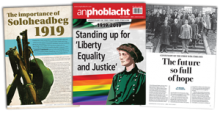 AN PHOBLACHT MAGAZINE:
Don't miss your chance to get the first edition of 2019 published to coincide with the 100th anniversary of An Chéad Dáil and Soloheadbeg.
In this edition Gerry Adams sets out the case for active abstentionism, Mícheál Mac Donncha takes us back to January 21st 1919, that fateful day after which here was no going back and Aengus Ó Snodaigh gives an account of the IRA attack carried out on the same day of the First Dáil, something that was to have a profound effect on the course of Irish history.
There are also articles about the aftermath of the 8th amendment campaign, the Rise of the Right and the civil rights movement.
An Phoblacht on Twitter

An initiative for dialogue 
for reconciliation 
— — — — — — —
Contributions from key figures in the churches, academia and wider civic society as well as senior republican figures