27 August 2010
Suicide prevention course in Fermanagh
TO coincide with World Suicide Prevention Day on September 10th, Ógra Shinn Féin are organising a suicide prevention course in Enniskillen on Saturday, September 11th.
The course, which is being part-funded by Enniskillen YouthBank, will run from 10am to 4pm and a buffet lunch will be provided. There is no charge to take part in the course but numbers are strictly limited so apply early.
Speaking about the Suicide Prevention Programme, which is to be delivered by PIPS, the Belfast-based charity, event organiser Phil Flanagan said:
"Suicide is the biggest killer of young people in Ireland and has caused enormous grief on families and communities. Ógra Shinn Féin have been proactively working on suicide prevention and awareness over the last number of years, organising public meetings, vigils, leaflet drops, meeting with ministers responsible for funding, and also attempting to empower people to work on suicide prevention by hosting suicide prevention courses in different venues across Ireland.
"This course is aimed at ordinary members of the community because suicide can affect us all and suicide prevention should be everyone's business. With local people trained to be more aware of the risk of suicide and the sources of help available, our communities will be safer."
The PIPS programme is open to everyone and is completely free of charge. However, as spaces are limited, anyone interested in taking part should contact Phil Flanagan ASAP at [email protected]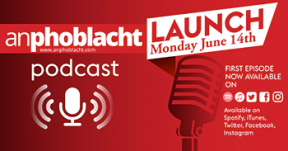 An Phoblacht on Twitter

An initiative for dialogue 
for reconciliation 
— — — — — — —
Contributions from key figures in the churches, academia and wider civic society as well as senior republican figures