9 October 2012
Mural to Irish International Brigader and IRA veteran Bob Doyle unveiled in Dublin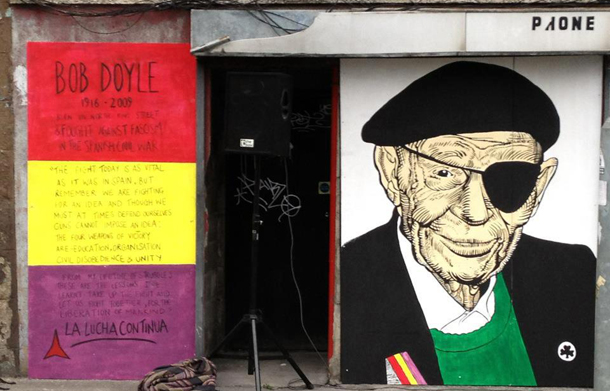 A MURAL dedicated to Irish anti-fascist and IRA Volunteer Bob Doyle was unveiled in Dublin at the weekend as part of events to mark the 21st anniversary of Anti-Fascist Action (AFA) in Ireland.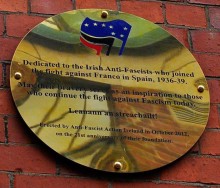 A plaque in memory of all the men from Ireland who fought with the Connolly Column and other International Brigades against Franco's fascists in the Spanish Civil War was unveiled at the Connolly Bookshop in Temple Bar.
Doyle, who died three years ago aged 92, joined the Irish Republican Army in 1930s after losing an eye in a brawl with the Irish fascist Blueshirt movement. In 1937, he joined the International Brigades to fight for the Spanish Republic against Franco. Eventually captured by the fascists, he spent 11 months in a concentration camp near Burgos, where he suffered regular torture by Franco's troops.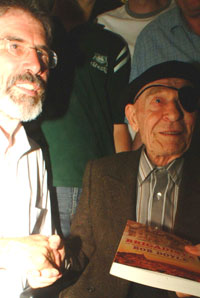 After his release he served in the British Merchant Navy during the Second World War and eventually settled with his wife in London, where he was active in the trade union movement. Three years before his death he published his story of the Spanish Civil War in the book Brigadista: An Irishman's Fight Against Fascism to critical acclaim. (Picture: Gerry Adams with Bob at the launch of Brigadista.)
In January 2009, his ashes were carried through the streets of Dublin with more than 1,000 people marching behind them and a large memorial event taking place in Liberty Hall.
The Bob Doyle mural is at The Cobblestone Bar in Stoneybatter, north Dublin City.
An Phoblacht Magazine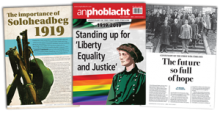 AN PHOBLACHT MAGAZINE:
Don't miss your chance to get the first edition of 2019 published to coincide with the 100th anniversary of An Chéad Dáil and Soloheadbeg.
In this edition Gerry Adams sets out the case for active abstentionism, Mícheál Mac Donncha takes us back to January 21st 1919, that fateful day after which here was no going back and Aengus Ó Snodaigh gives an account of the IRA attack carried out on the same day of the First Dáil, something that was to have a profound effect on the course of Irish history.
There are also articles about the aftermath of the 8th amendment campaign, the Rise of the Right and the civil rights movement.
An Phoblacht on Twitter

An initiative for dialogue 
for reconciliation 
— — — — — — —
Contributions from key figures in the churches, academia and wider civic society as well as senior republican figures