30 September 2012 Edition
FÓGRAÍ BHÁIS
Niall Donnelly, Dublin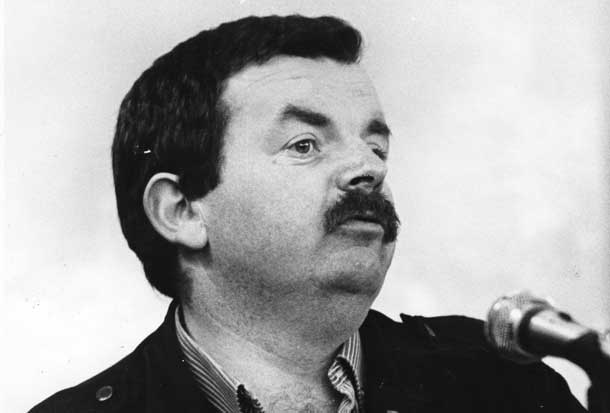 NIALL DONNELLY passed away on 5 September. Niall was a Dublin Bus driver before becoming a taxi driver, a lifelong trade unionist and had stood as a Sinn Féin candidate in local elections in the 1980s and also in the 1987 general election for the north Dublin suburb of Ballymun.
Sinn Féin TD Seán Crowe gave the oration at Niall's funeral at Glasnevin Crematorium, in which he said:
"On behalf of the leadership of Sinn Féin and republicans throughout the island of Ireland, can I express my deep and sincerest condolences to you, the family and friends of Niall Donnelly.
"I will always associate Niall with the GPO in Dublin, that hallowed ground for Irish republicans, Niall on Saturday afternoon with a microphone in his hand talking about what was happening in the North just up the road, about oppression, sectarianism, the denial of national rights, about workers' rights, their struggles and aspirations in Ireland and around the world.
"He had joined the IRSP after the shooting of Seamus Costlello and was active during the 1981 Hunger Strike. Like many of us activists who lived through that awful period, it had a profound effect on Niall. He personally knew one of the Hunger Strikers, Patsy O'Hara from Derry.
"Niall was an Irish republican, a socialist, an internationalist a trade union organiser and activist, a leader, a community activist, a Concerned Parent Against Drugs, a Sinn Féin candidate, a proud Irishman, a Dub, someone who was extremely proud of his family background and working-class roots.
"His politics shaped his life and they were not of the weekend variety. They were articulated in the workplace, meeting friends, at public meetings or anywhere he went. Niall believed in equality and wanted to see a just and inclusive society not just in Ireland but throughout the world. He always took the side of the have nots against those with plenty, the oppressed against oppressor, the poor against rich. He found the idea of one part of the world full of food and plentiful while the other half  starved, an abomination.
He despised humbug, self-servers, religious chest thumpers, Free Staters, Fine Gaelers, Enda Kenny, West Brits, royalty, Blueshirts, fascists, the idle rich, spoofers,  Bertie,  Charlie Haughey, drug dealers, bankers, the Troika, bosses and their lackeys, racism, sectarianism . . . and I suppose boring long speeches from politicians waxing lyrically  at funerals.
"He loved his family, friends, enjoyed a pint or three, could sing a song, crack a joke and enjoyed interesting company.
"Niall was someone who brought enjoyment and even happiness at times into our life, our journey our voyage. He was good decent man, was proud of sons Barry and Conor and their achievements. He spoke often about them and his pride was evident.
"He shouldered his illness with dignity, didn't want to be any bother to anyone and, typically of Niall, left this life quietly.
"Most of his personal and political life was spent helping and supporting others bringing about positive change in the lives of ordinary people.
"My memories of him will be of his sincerity, his warmth, his friendship and his big ear-to-ear 'Niall smile'."