30 September 2012 Edition
Power to the people
Wind Farms: Sinn Féin MEP puts focus on need for community benefit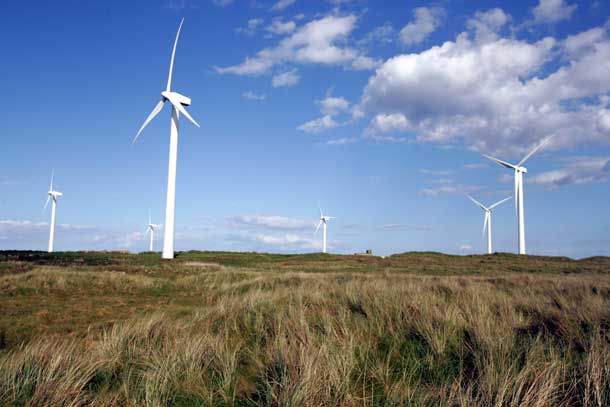 Key findings from the Fermanagh Trust research show commercial wind farms can present significant opportunities for communities
WELCOMING the Fermanagh Trust's recently-published research document, Maximising Community Outcomes From Wind Energy Developments, Martina, a member of the European Parliament's environment committee (ENVI), described the community dimension of renewable energy policy in the Six Counties as its Achilles' Heel. If this weakness is not addressed we will continue to face opposition from communities.
IRELAND and its rural west in particular have one of the greatest wind energy resources in Europe. As we strive to meet ambitious climate change targets, set by Europe, communities are entitled to derive some beneficial return from their local natural environmental assets such as renewable energy being developed commercially.
While local communities in Denmark and Germany benefited through the widespread participation of farmers and local co-operatives in these developments, this has not been the case in Ireland and Britain.
Because wind farms here are, typically, large, commercial projects that mostly benefit distant shareholders, this contributes to local opposition. Local communities need to be convinced of not just the environmental benefits of renewable energy but also local economic benefit if we are to garner their support and co-operation. The focus must be on how the communities can benefit and not on commercial exploitation. Therefore I will be directing my attention and that of Sinn Féin's MLAs and councillors to making social economy and local enterprise agencies aware of the interesting findings contained in the Fermanagh Trust research.
Key findings from this research show commercial wind farms can present significant opportunities for communities where such developments are proposed.
Community benefits in the context of wind energy can be derived through agreement with the developers of financial contributions to a community fund or other methods of developing community facilities. Such arrangements can assist in supporting local infrastructure projects, community activities and the social economy.
Whilst these developments can provide new opportunities for local communities, it is important that communities have access to the required expertise to negotiate the best terms possible from the developer. For instance. the higher level of developer payments to community funds in Britain have generally not been achieved at approved wind farms here. In Britain, amounts of £5,000/MW per annum have been increasingly achieved. Only one in fourteen community funds in the Six Counties was identified by this research to contributions in the region of £2,000/MW per annum.
According to the Fermanagh Trust's research, in Britain, the level of financial contribution made by developers into community funds has been steadily increasing. Growing numbers of developers are offering amounts in the region of £5,000/MW per annum into a community fund during the lifetime of a wind farm.
An example of this is SSE, who have committed to providing the equivalent of £5,000 per megawatt for all new onshore wind farms constructed in Scotland from 1 January 2012. This will comprise £2,500 for local community initiatives and £2,500 per megawatt for the new Scotland Sustainable Energy Fund.
Recently, the Pen y Cymoedd Wind Farm in Wales was granted planning permission. Vattenfall has committed to providing a community benefits package which could be worth more than £55million over the lifetime of the wind farm. This would incorporate £3million for habitat management and £6,000/MW per year to a community trust fund. Commenting on the wind farm, Energy Minister Charles Hendry noted:
"This project in South Wales will generate vast amounts of home-grown renewable electricity and provide a significant benefits package for the local community."
There is no reason why communities here should not benefit to the same degree as those in Britain. I will be working with a range of party colleagues in Europe, the Dáil, Assembly and local government to have all opportunities for community benefit maximised for rural communities. The alleviation of fuel poverty which many disadvantaged local people face could be the outcome of such community benefit.
Proposed developments by large companies if they are to be welcomed by local communities need to demonstrate real community benefit and not just engage in PR exercises.