30 September 2012 Edition
G4S securing whose world?
Guarding the olympics in London and cash in Ireland – running detention centres in occupied Palestine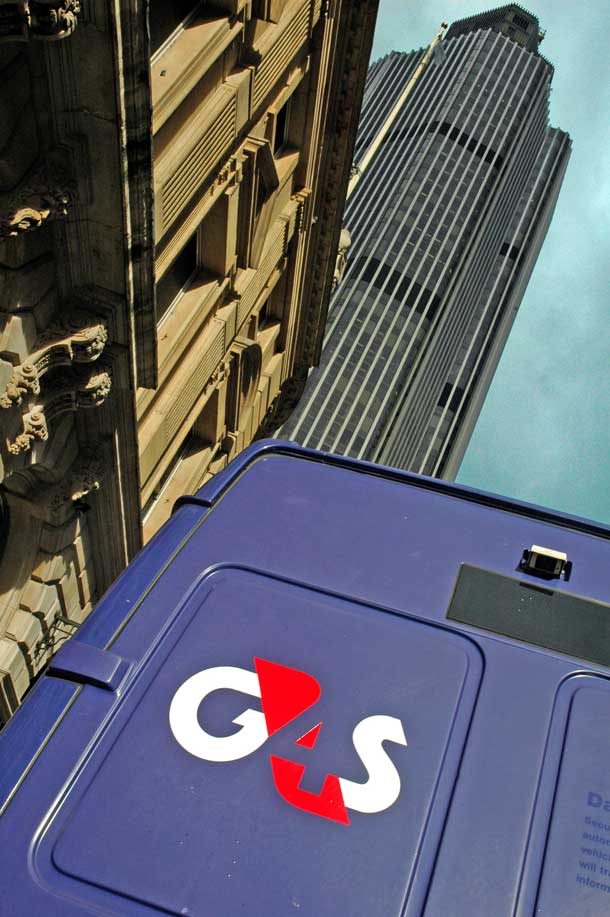 In Israel, G4S provides security at Israeli prisons and detention centres, many of which house political prisoners (including child prisoners) and others which hold internees
GROUP 4 SECURICOR (G4S), the multinational firm that couldn't manage security for the London 2012 Olympics, is helping to operate detention centres in Israel and occupied Palestine which hold child prisoners.
For many, the Olympics security shambles was the first time a lot of people had heard of the company but the security firm which started as a night watchmen service with four guards on bicycles in 1935 has evolved into a multi-billion euro operation and its logo is popping up everywhere. The British-Danish company is amongst the world's three largest private-sector employers with more than 650,000 staff in 125 countries. In 2011, its income was more than £7.5billion, with after-tax profits of almost £200million.
In Africa, the Middle East and Asia, the company has lucrative contracts protecting oil, gas and mining facilites. It is dangerous work: last year, 76 G4S employees died while on duty; in 28 of these cases, the workers died while 'under attack'.
In Britain, the company runs six prisons and operates the electronic tagging programme of prisoners. It also protects dozens of embassies. Two hundred Linconshire Police civilian support staff carrying out front-office, custody and control room duties were transferred to G4S in April 2012.
Here in Ireland, G4S employs around 5,000 people, mainly in cash-in-transit and security services. It currently manages the Central Criminal Courts complex in Dublin under a €291million public-private partnership deal.
In Israel, G4S provides security at Israeli prisons and detention centres, many of which house political prisoners (including child prisoners) and others which hold internees.
According to a report into the G4S by 'Who Profits?', a project which monitors and publishes information about commercial entities which co-operate or profit from the ongoing occupation of Israeli and Syrian land by Israel, G4S operates a central control room for the entire Ofer detention compound. Ofer is a military prison housing more than 1,000 political prisoners, including children.
In December 2010, a delegation from the Council for Arab-British Understanding visited the facility. British Labour Party MP Sandra Osborne said she was "shocked to the core" when they saw 13-year-old boys shackled by the legs and handcuffed while being led into the military court based there.
The company also kitted out two other Israeli prisons, Ktzi'ot and Megiddo, which between them house more than 3,000 prisoners of which between 100 and 200 are under the age of 18.
Not only does G4S work with the Israeli Government but it is business as usual for commercial entities based in illegal settelements.
G4S provides security and personnel to businesses and shops in Israeli settlements built on stolen Palestinian land in the West Bank. Under UN law and the Geneva Convention, these settlements are completely illegal. G4S states that contracts with companies based in these settlements are "not discriminatory or controversial" yet apart from the illegality of these outposts under international law, they also help operate an apartheid regime whereby the services provided in them are not available to Palestinians.
G4S also boasts that it provides 'services' at Israeli checkpoints along the Gaza border and the Apartheid Wall which separates Israel from the West Bank. It adds it is a "leading supplier" of electronic equipment to the Israeli police force.
The Arab Spring has proved good for business. G4S executives told investors last year that civil unrest and protests across the Arab world had resulted in rising demand for private security services. In Egypt and Bahrain, G4S had "visibility among government heads of security" and "built the brand", G4S said.
In the ultra-conservative kingdom of Saudi Arabia, G4S helps train security forces at the Naif Arab University for Security Sciences while local G4S staff received a two-month bonus for their support for the ruling regime during popular protests earlier this year.
In April, though, the company lost its contract protecting EU Parliament buildings following objections from MEPs and campaign groups – including the Ireland Palestine Solidarity Campaign – over the company's record in Palestine and Israel.
The Boycott Israel Network, which advocates a consumer, cultural and artistic boycott of Israel as long as it violates international law, says:
"Brutal systems of discrimination such as Israeli apartheid are maintained because companies like G4S are willing to do business with them, in total disregard of the human consequences and of international law.
"G4S is an example of a business that cynically views the practices of such regimes as good for business. Action must be taken to prevent corporate complicity with Israeli violations of international law."