30 September 2012 Edition
Sinn Féin intervention achieves 10-month industrial dispute deal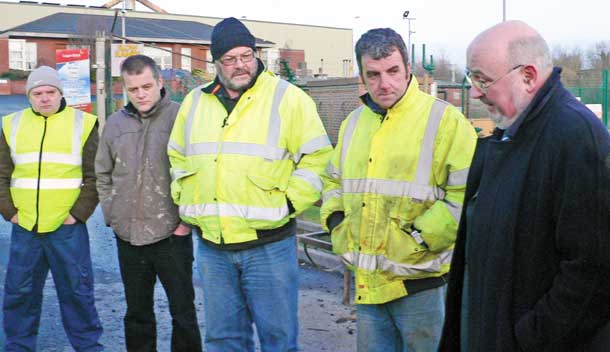 "Whatever the future holds for the closed Lagan Brick plant at Kingscourt, I hope that the former workforce would be given most favourable consideration in the event that this plant reopens under whatever management."
LAGAN BRICK workers have thanked Sinn Féin after the party's all-Ireland intervention helped to end one of the longest running industrial disputes in recent Irish history. 
Workers at the Lagan Brick manufacturing plant in Kingscourt, County Cavan, had been engaged in a round-the-clock protest at the premises following an announcement on 15 December 2011 that the company had closed. The 25 staff members were told of the closure just hours before it happened and the company refused to pay reasonable redundancy terms.
Workers voted to end their protest action — which had lasted 272 days — and accepted a negotiated settlement on 13 September 2012 brokered by Sinn Féin. The details of the agreement are confidential.
In a statement following the announcement, the workers said:
"We thank Sinn Féin TD Caoimhghín Ó Caoláin and Fine Gael Minister of State Shane McEntee for their help in bringing this dispute to an end. Our thanks too to Gerry Adams TD and [Sinn Féin] Belfast City Councillor Jim McVeigh, whose intervention last week, along with Deputy Ó Caoláin, led to this welcome settlement."
SIPTU Organiser John Regan described the settlement as "a fair and reasonable" deal which would allow workers get back to a normal life.
Caoimhghín Ó Caoláin said:
"Whatever the future holds for the closed Lagan Brick plant at Kingscourt, I hope that the former workforce would be given most favourable consideration in the event that this plant reopens under whatever management."