6 October 2012
Who should the new Liffey bridge be named after?
SEVERAL NAMES have been suggested for the new public transport and pedestrian bridge over the River Liffey instead of the suggested James Connolly Bridge.
Proposing that it be named after his late brother, inner city TD Tony Gregory, Noel Gregory said:
"It should be recognised that while James Connolly was an iconic hero to both myself and my late brother Tony Gregory, he has a railway station, a hospital and a monument dedicated to his memory in Dublin."
There is no bridge over the Liffey named after a woman.
Who do you think the new bridge should be named after?
Poll Results:
Total votes: 2147
James Connolly, 1916 leader: 204 (9.5%)
Elizabeth O'Farrell, 1916 GPO garrison nurse: 364 (17%)
Tony Gregory, inner city TD: 78 (3.6%)
Maeve Binchy, author: 23 (1.1%)
Lord Edward Carson, unionist leader: 1478 (68.8%)
What did Stephen Nolan having BNP leader Nick Griffin on his live BBC TV show achieve?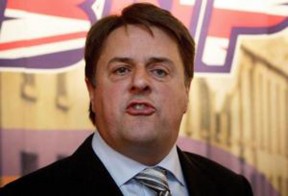 THE appearance of Nick Griffin MEP, leader of the neo-fascist British National Party, at the Orange Order's Ulster Covenant Centenary events at Stormont on Saturday provoked criticism on Twitter.
Griffin responded on Twitter at the start of a diatribe over several days that led to complaints to the PSNI under race-hate laws:
"So Ulster pics have upset my republican stalkers. Tell you what, the bodhran can't match the lambeg, you Fenian bastards."
Stephen Nolan invited an unrepentant Griffin on the show to defend his comments.
Poll Results:
Total votes: 261
Gave the BNP a platform even if Griffin is an idiot: 81 (31%)
Helped expose Nick Griffin as an idiot: 93 (35.6%)
Both: 87 (33.3%)