3 September 2012
HSE health cuts – Are Labour TDs 'just throwing shapes'?
FINE GAEL Health Minister James Reilly's announcement of a further €130million in cuts to the healthcare budget by the end of the year has led to reports of divisions between the Government's coalition partners in Fine Gael and Labour.
Do you agree with Fine Gael Minister Leo Varadkar's claim that Labour Party TDs are just "posturing" and "throwing shapes" by publicly raising concerns about the cuts?
Poll Results:
Total votes: 165
Not just posturing, I think this might break up the coalition: 17 (10.3%)
Yes, it's all PR – Labour will do nothing of substance to stop the cuts: 148 (89.7%)
What did Stephen Nolan having BNP leader Nick Griffin on his live BBC TV show achieve?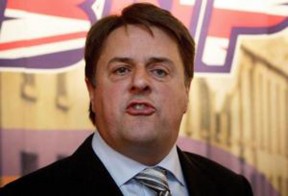 THE appearance of Nick Griffin MEP, leader of the neo-fascist British National Party, at the Orange Order's Ulster Covenant Centenary events at Stormont on Saturday provoked criticism on Twitter.
Griffin responded on Twitter at the start of a diatribe over several days that led to complaints to the PSNI under race-hate laws:
"So Ulster pics have upset my republican stalkers. Tell you what, the bodhran can't match the lambeg, you Fenian bastards."
Stephen Nolan invited an unrepentant Griffin on the show to defend his comments.
Poll Results:
Total votes: 261
Gave the BNP a platform even if Griffin is an idiot: 81 (31%)
Helped expose Nick Griffin as an idiot: 93 (35.6%)
Both: 87 (33.3%)