25 July 2012
Fine Gael leader Enda Kenny unveils plaque to 'war criminal'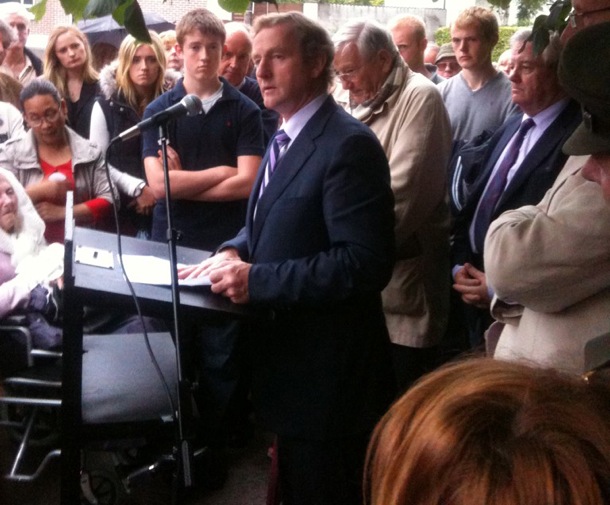 O'Higgins responded coldly: 'I stand by the 77 executions – and seven hundred and seventy-seven more if necessary'
TAOISEACH ENDA KENNY last night unveiled a plaque in Booterstown in memory of a Justice Minister who ordered the execution of dozens of Irish republican prisoners during the Civil War.
Kevin O'Higgins (below) signed the execution orders for 77 prisoners, including Rory O'Connor, who had been best-man at O'Higgins's wedding!
O'Higgins was shot dead by three IRA members in July 1927.
Questioned in Sligo two years prior to his death as to whether he regretted the killings of so many defenceless prisoners, O'Higgins responded coldly: "I stand by the 77 executions – and seven hundred and seventy-seven more if necessary."
A commemoration marking 85 years since his death was held last night in the south Dublin townland of Booterstown. Some callers to Joe Duffy on RTÉ's Liveline radio show yesterday expressed their opposition to the memorial with one caller describing O'Higgins as "a war criminal".
An Phoblacht Magazine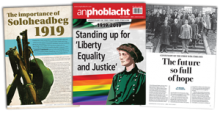 AN PHOBLACHT MAGAZINE:
Don't miss your chance to get the first edition of 2019 published to coincide with the 100th anniversary of An Chéad Dáil and Soloheadbeg.
In this edition Gerry Adams sets out the case for active abstentionism, Mícheál Mac Donncha takes us back to January 21st 1919, that fateful day after which here was no going back and Aengus Ó Snodaigh gives an account of the IRA attack carried out on the same day of the First Dáil, something that was to have a profound effect on the course of Irish history.
There are also articles about the aftermath of the 8th amendment campaign, the Rise of the Right and the civil rights movement.
An Phoblacht on Twitter

An initiative for dialogue 
for reconciliation 
— — — — — — —
Contributions from key figures in the churches, academia and wider civic society as well as senior republican figures