2 July 2012 Edition
A civil right, not a religious act
OPINION: CIVIL PARTNERSHIPS DO NOT EQUATE TO EQUAL MARITAL RIGHTS FOR SAME-SEX COUPLES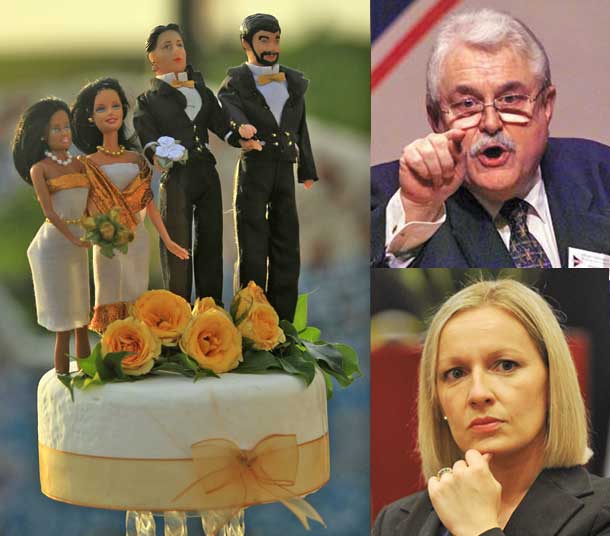 Giving the same rights as marriage but calling it a 'partnership' means that it is a two-tiered system of legal rights
'Does that mean that every deviant practice has to be accommodated? Will the next thing be that we legislate for some sort of bestiality?'
 The South's once-favourite 'liberal unionist', Ulster Unionist Party Lord Ken Maginnis, former MP and major in the Ulster Defence Regiment, speaking on The Nolan Show, BBC Radio Ulster, June 2012
'[Marriage is] primarily about children'
 Lucinda Creighton, Fine Gael Minister of State for European Affairs, clarifying why she agrees with civil partnerships but not full civil marriage for same-sex couples, February 2011
CIVIL PARTNERSHIPS are good — but they don't amount to equality for same-sex couples in Irish society.
In Ireland, we are very fortunate to have civil partnerships for same-sex couples recognised on both sides of the Border. This is an important legal recognition. In the Six Counties there are minor differences between civil partnerships (introduced in 2004) and civil marriage in terms of the legal protections and rights given to the couple but there are differences. In the 26 Counties, however, same-sex marriage advocacy group Marriage Equality, has found a total of more than 160 differences between civil marriage and civil partnerships. This demonstrates quite simply that civil partnerships are by no means the final step toward equality.
Some opponents of marriage equality protest that civil partnerships 'are basically the same thing'. To me, 'basically the same' is evidently not the same. And if it is almost the same, then why not go that little bit further and make it the same?
Whatever one feels about marriage in general, be it religious or civil, it is imperative that the same treatment is given to opposite and same-sex couples to solidify and demonstrate that they are on the same level of legal and social recognition.  
The religious argument against gay marriage is often that marriage is defined as being between a man and woman and that same-sex marriages will therefore ruin the sanctity of that union. There was once a time in the United States that the same religious institutions argued that a marriage between an inter-racial couple would ruin that same sanctity of marriage.
The idea that homosexuality is a mental illness, a disease or a lifestyle choice is absurd. No amount of psychology can change the fact that a gay person is gay. Some gay people are aware of their sexuality from a very young age, around the same age that straight kids start to feel certain urges toward the opposite sex. It seems perfectly acceptable at first. The need to suppress these feelings comes because of what society, authorities and government defines as unnatural. When society insists that those feelings are wrong or 'sinful' it becomes scary and troublesome: it can lead to bullying, persecution, severe depression and even suicide.
The introduction of same-sex marriage will help people see that homosexuality as something that is perfectly normal (something feared by religious leaders). Giving the same rights as marriage but calling it a 'partnership' means that it is a two-tiered system of legal rights. Why even have two pieces of legislation for the same law? Is it to show that there is something different between the two acts? That one means less than the other? It's a civil right not a religious act.
Marriage is not just about declaring your love for your partner but about having certain protections when it comes to the law, such as tax affairs, visitation rights in the case of a sick partner, and the ability to adopt as a same-sex couple. Achieving equal rights for the Lesbian, Gay, Bisexual and Transgendered (LGBT) community in Ireland can only be achieved when those outside of it begin understanding, accepting, and campaigning with them.
It's about getting the recognition from wider society. It's about teaching children in school that they need to be open minded and supportive of their gay schoolmates. Most of all, though, it's about our politicians getting on board and being proactive on the issue rather than sitting back and waiting to be lobbied about it. They are the ones with the power to implement change after all.
Sinn Féin has long supported full marriage rights for same sex-couples. That's not surprising given that republicanism in Ireland has been built on the concept of civil rights and freedom and equality for all. Let's hope those same concepts are taken on board by everyone in Ireland.