2 July 2012 Edition
Fears for Offaly fire cover
FUNDING CUTS | FIRE STATION AND LIBRARY CUTS FELT BY COMMUNITIES
'The closure of the fire stations has severely damaged the service's ability to respond to emergencies in Offaly' – Fire Service source
THERE ISN'T a town or villages across the state that has escaped from the impact of cutbacks to local government funding. Yet three Offaly towns still reeling from a decision which saw their fire stations shut down last year are facing further cutbacks as their libraries opening hours are severely reduced.
News that library opening hours were to be cut in the towns of Kilcormac, Daingean and Banagher was met with universal opposition and protests by locals in March. County Manager Pat Gallagher pointed out that the cuts to local library services were a direct result of Fine Gael's and Labour's 2012 Budget that saw a massive 8.4% reduction to the Local Development Fund. He said the decision had been taken to "prioritise full-time libraries" in nearby larger towns but the move comes at the expense of smaller, mainly rural, facilities. "It is not a pleasant exercise," he added. The downgrading has seen Banagher library's opening hours almost halved, from five to three days, while the Kilcormac and Daingean libraries now only open for just a few hours once a week.
Sinn Féin Councillor Brendan Killeavy described the cutbacks to library hours as "an outrageous attack" on small rural communities.
"These libraries are not only very important for students and job-seekers, they also serve as a place where educational classes, book clubs and social groups meet," he said. "The reduction in opening hours, and particularly their closure on Saturdays, means that many residents, especially older people, will not be able to avail of this important local resource."
In Daingean, a petition calling for a reversal of the downgrading received almost 1,200 signatures and was presented to Fine Gael Councillor Molly Buckley by the campaign group on 23 May. Local schoolchildren also spoke out against the reductions by writing down the reasons they love and need their local library on Post-it notes and sticking them on the library windows.
Meanwhile, another ongoing campaign to have fire services in Kilcormac, Daingean and Banagher restored has been ignored by Environment Minister Phil Hogan. When quizzed by Laois/Offaly Sinn Féin TD Brian Stanley in the Dáil on the issue, the Environment Minister dismissed concerns about the closure of three fire stations, claiming "no part of County Offaly is without fire service cover".
But this is rejected by firefighters on the ground.
One Fire Service source told An Phoblacht:
"The closure of the fire stations has severely damaged the service's ability to respond to emergencies in Offaly. The north of the county has been particularly affected. If there are two incidents at opposite ends of this area – which is possible if not probable, particularly over the summer – then it is likely that Edenderry fire station would not have the resources to get to both. Staff would be left in the horrible position where they would have to make the call on which incident to attend first."
Brian Stanley TD told An Phoblacht that, far from reversing cuts to such services, the Government is planning on making further reductions to local government funding in December's Budget.
"The priority should be that all elected representatives unite together to demand a new fire plan that includes the provision of eight fire stations in Offaly. As I have pointed out before, Laois has eight functioning stations on a slightly smaller budget and in a smaller geographic area than Offaly."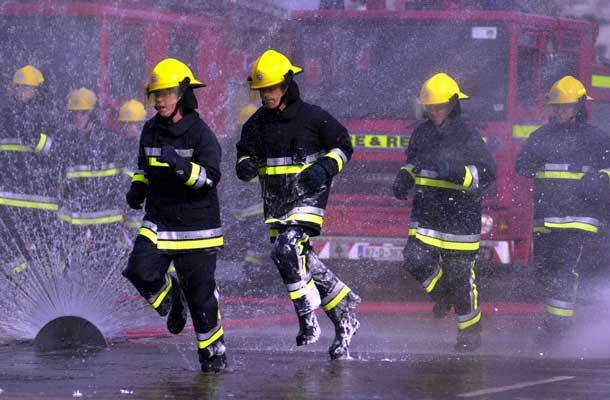 A fire service source told An Phoblacht that the service's ability to respond has been badly affected by station closures, particularly in north Offaly