2 July 2012 Edition
South Armagh Volunteers Day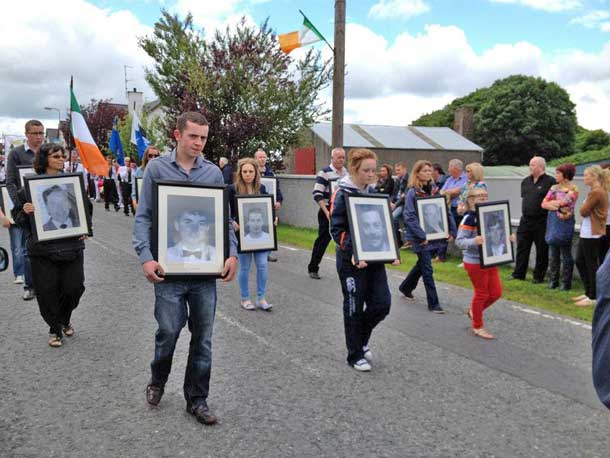 24 young people laid lilies on the monument, each in memory of a Volunteer who had paid the ultimate price in the quest for Irish freedom
UPWARDS OF 500 people turned out on Sunday 24 June to remember fallen friends and comrades at the annual Volunteers Day Commemoration in South Armagh.
The event took place in Mullaghbawn Memorial Garden. Many of those attending travelled great distances to pay their tributes to all those who had sacrificed in the name of a united Ireland.
Lifelong republican activist Declan Murphy chaired the event which began with wreaths being laid on behalf of the Republican Movement by Mickey Terence McCreesh and on behalf of Sinn Féin by Mima Campbell. Next came the South Armagh Brigade Óglaigh na hÉireann Roll of Honour, read by Aiobheann Moley. As the 24 names on the Roll of Honour were called out, 24 young people laid lilies on the monument, each in memory of a Volunteer who had paid the ultimate price in the quest for Irish freedom. A lone piper's lament added poignancy to this part of the day.
This was followed by a minute's silence and the playing of the fallen soldiers' salute, The Last Post, played by Aoife Cumiskey. This was accompanied by the lowering of flags by five local young republicans: Laura Reel, Gráinne Garvey, Aoife Wills, Seaneen Hughes and Danielle Murphy. 
As ever, music played a major role in the commemoration with The Shamrock Shore sung by Gareth Doran, striking a chord with many people present whose loved ones have been forced to leave Ireland to seek work overseas.
The main speaker for the commemoration was North Belfast MLA Gerry Kelly, who spoke fondly of the many times he had visited South Armagh and the strong bonds of friendship he had built up over many years with comrades here. Gerry also spoke of the huge republican initiative announced in recent days — Martin McGuinness's meeting with the English queen — and how this, while difficult and challenging for republicans, extended the hand of friendship to unionists across Ireland.
The proceedings were concluded by Crossmaglen girl Shona Daly who performed Amhrán na bhFiann.