2 July 2012 Edition
FG and Labour TDs block Sinn Féin bid to axe Household Charge
REPEAL BILL BY SINN FÉIN WOULD HAVE SCRAPPED HOUSEHOLD CHARGE AND REFUNDED HOUSEHOLDERS WHO HAVE ALREADY PAID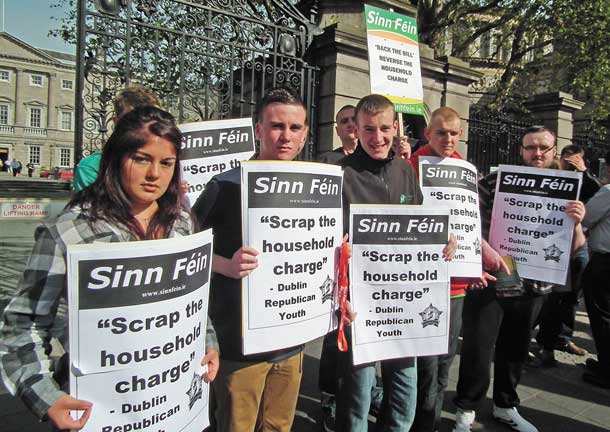 Sinn Féin TD Seán Crowe asked the Government why an elderly person in a modest home had to pay the same tax as a millionaire owning a mansion
THE Fine Gael/Labour Government has voted down a Bill put forward by Sinn Féin which would have seen the scrapping of the flat-rate Household Charge and refunding householders who have already paid.
Following two days of debate in the chamber, the Bill was defeated by 79 votes to 46.
Speaking during the debate on the Local Government (Household Charge) (Repeal) Bill 2012, Sinn Féin spokesperson on Environment, Community and Local Government Brian Stanley TD said it's time "Labour stood up for those who elected them and voted yes to overturn the Household Charge".
Initially, only one of the 109 Government TDs, Minister of State Fergus O'Dowd, bothered to show up to debate the Bill.
Outlining alternative forms of funding for local government, Brian Stanley said: "The introduction of a new third rate of tax of 48% on income earned in excess of €100,000 would raise €410million. The abolition of 'group relief' availed of by companies transferring losses to profitable companies, and write down tax receipts, would raise €450.3million. The abolition of legacy property reliefs would raise €341.8million, while the capping of all public servants wages at €100,000 per annum would save €265million. Any of these choices would have provided adequate funding for local government."
It was estimated that the Household Charge would bring in €160million but the strong public resistance and the refusal of hundreds of thousands of people to pay the charge means that just about half of that has actually been taken in.
Sinn Féin TD Seán Crowe said the majority of Irish people believed the charge to be unfair and asked the Government why an elderly person in a modest home had to pay the same tax as a millionaire owning a mansion.
Despite calls from Sinn Féin, trade unions and community groups for Labour deputies to break ranks and vote against the Government, the party's TDs (bar one) ignored the pleas. The majority of government TDs did not bother to show up or take part in the debate but flocked into the chamber from when the time came to vote down the Bill and press ahead with the unfair charge.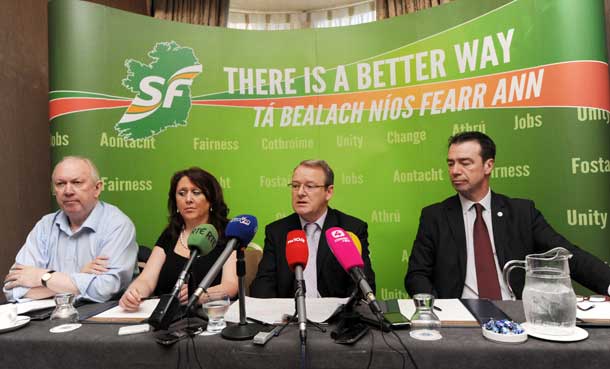 Unite's Jimmy Kelly, SPARK's Louise Bayliss, Sinn Féin's Brian Stanley TD and Mandate's John Douglas all called on Government TDs to vote in favour of the Sinn Féin Repeal Bill