2 July 2012 Edition
'I'm going to the Olympics a lot fitter and in better shape'
PADDY BARNES, BELFAST BOXER AND IRISH OLYMPICS GOLD MEDAL HOPE, GOES HEAD TO HEAD WITH ALEX MASKEY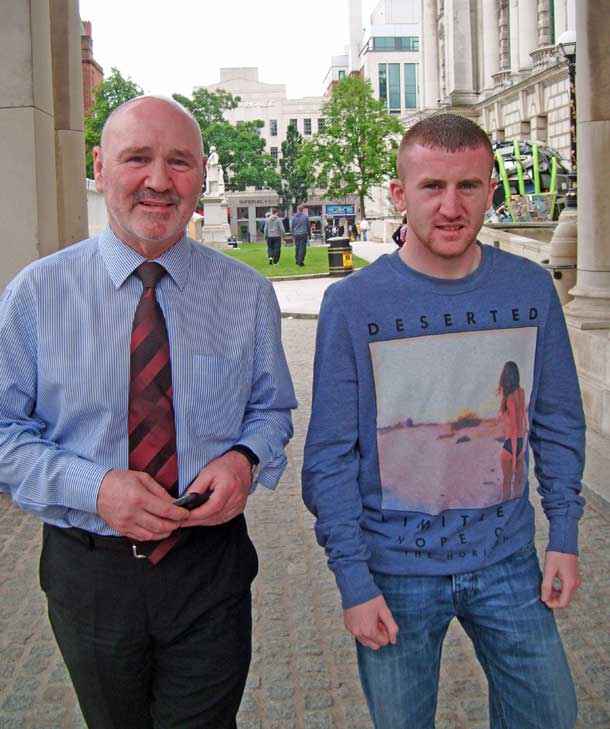 PADDY is 25 years old and has been boxing since he was 11 years of age. Paddy first began playing football but did not consider himself suited to the sport and joined the Belfast Kronk Club with his neighbourhood friends and had his first fight within a week. Paddy points out that while he lost this fight he remains good friends with his then successful opponent. He eventually joined the East Coast Boxing Club based in Ballyhornan while he spent many weekends with his cousins from Ardglass.
Although Paddy lost his first 15 fights he thoroughly enjoyed the company of his cousins and friends in the gym. He also enjoyed the training and discipline associated with the tough regime of blood sweat and tears. Like so many others in the boxing fraternity, family and community would play a major part in his career as Paddy's parents and family were strong supporters of him from the outset. Indeed, from the age of 17 his family have essentially financed his career allowing him to dedicate his time selflessly to his chosen profession.
At the age of 16, Paddy joined the Holy Family Club in Belfast under the guidance of the legendary Gerry Storey and went on to win several regional, national and international titles. His achievements include junior and regional titles, six senior Irish titles, European gold, Commonwealth gold, Beijing Olympic bronze (a highly disputed hometown decision) and is currently ranked fifth in the world in his 49kilos/light flyweight division.
Paddy Barnes is a member of the current Irish Olympic squad and well favoured to win a gold medal as are some of his team-mates. Paddy Barnes is totally dedicated to his boxing career and has sacrificed his youth to the strict discipline of training and preparation for one high-level competition after another throughout the past 14 years. Paddy retains the modesty that most amateur boxers are renowned for despite his obvious ring prowess and achievements and says his family and friends keep his "my feet firmly on the ground" – and if he got too big for his boots "my girlfriend would kill me!"
He is looking forward to once again challenging the best in the world for gold at the London Olympics and just before he headed off to training in Dublin and Italy before taking the worldwide stage in London, Paddy took time out to go head to head with Alex Maskey, himself a successful amateur boxer of some renown in his day who lost only a handful out of 75 fights.
How did you get involved in boxing?
I had usually been playing football in the streets with my friends but wasn't really very good at the game. One Wednesday night I decided to go to the Belfast Kronk Club and had my first fight the very next Sunday. I lost that one but remain friends with the lad who beat me that day. My cousins were living in Ardglass, County Down, and they also boxed. I used to visit them on weekends and joined the club in Ballyhornan. I trained there every weekend under my uncle, the trainer Jimmy Linden, and with my cousins and friends. I was able to box week in and week out and I thought it was great.
I really wanted to do well at boxing. At 16 I won four titles. I thought I was the best in the world and I just kept wanting to win and wanting to win again. I wanted to make something of myself through boxing.
As you were moving up the ranks and won those four titles early on, did that will you on to achieve even more? What would you say has been your biggest highlight or what has been the best fight or championship you have ever won?
The Olympics was unreal. It's a massive competition but for me personally it was winning the European gold medal. It was beating the very best of all Europe.
What would the training regime be like to prepare to win a gold medal at European or Olympic level?
It's not just about the medals – it's about being involved to get to this level. You have to be dedicated to training six days a week, twice a day. It's really tough. It has a big impact on your social life. It was either socialise, enjoying life outside, or train hard and reap the rewards afterwards.
When you were 'growing up' in the boxing world, who would have been the people you most looked up to?
Surprisingly, I don't really watch a lot of boxing on TV but I remember Eric Morales fighting Marco Antonio Barrera and the three fights they had, that was unreal. And then, a couple of years later, Wayne McCullough fought Morales and that was very good too.
I think Wayne is one of those fighters who doesn't always get the credit he deserves. He was a world champion and also the first man from these islands who won that title in Japan, wasn't he?
Yes, that's right. He was brilliant and he never really got the full credit.
You went to the Beijing Olympics and won the bronze medal. That fight decision was severely disputed and you were very angry.
Yes, on the day I was. I don't think I did a bad thing complaining – it was the heat of the moment. After all, it's not Monopoly we're playing: it's a high level of sport. I accepted that I lost but it was the manner of how it happened [the judges' scoring] that had me annoyed.
How did you get through that whole episode? How did you deal with it and the aftermath?
I just put it down to experience. It was my first time at the Olympics and it was only my second year at Senior level. To make it to the Olympics had been a bonus.
What are your hopes for the team?
The team is now five men and one woman. We have a very strong team and we all have the potential to bring medals home. It's going to be hard work, of course, and a big job.
Young Michael Conlon, much lesser known at the moment and also from Belfast, will also be there with you.
Not a lot of people know Michael yet but I will tell you that for me he is a serious gold medal contender. I'm very hopeful for Michael, big time.
I take it you are well into your training and should be moving up a gear the closer we are getting to the Olympics themselves?
Yes, for example tomorrow I'm heading to Dublin for ten days sparring with the Indian boxing team and after that in July we go to Italy for our final training camp before heading to London.
A bit of zig-zagging around the place before you arrive in London. Are you anxious about going to London?
A bit of everything: anxious, nervous, but most of all excited.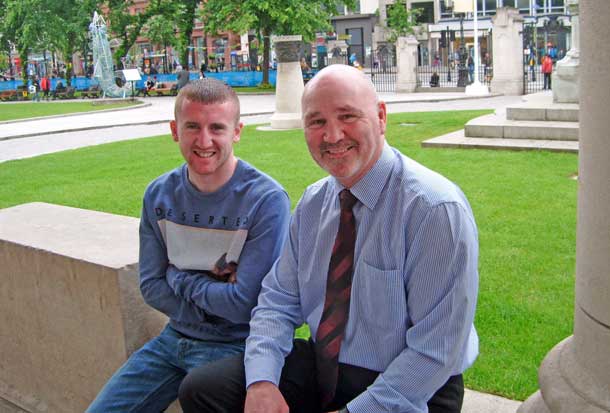 What message do you have for all the young people involved in boxing today?
Stick at it. Not everybody is going to be a champion but train hard and if you put a lot of hard work into it you will get rewarded no matter how big or small the titles are.
Throughout this interview you have expressed many different values, including modesty. Would a lot of this have rubbed off from your family?
Yes, definitely. My family has guided me in the right direction and kept me grounded. I still have a lot to prove in the boxing scene.
At the moment there is a lot of work going on here in Belfast to get the City Council to help and support boxing. Is this something you would welcome?
Big time. The sport always needs support. Even for myself, now that I'm at college and with the course I'm doing, I hope to be a development officer. So if a post ever arrives that would be great.
What do you think of yourself sitting here as an 'ordinary' young man from north Belfast who is currently ranked fifth in the world in an extremely tough division. This is a fabulous achievement. How does that make you feel personally?
It feels brilliant but there are people ahead of me in the rankings and who have been beaten before. So I try to stay focused and not look at the rankings. I just perform the best I can.
What competition would you consider to be the best or most important?
The Olympics is undoubtedly the top competition in the world – it's the pinnacle. This is the toughest but I have done it before and don't see why I can't do it again.
So tomorrow you are off to your training camp in Dublin and onward to Italy for final preparations?
Yes. Training in Italy will be hard due to the change of climate. It takes more out of you. It will be a lot hotter but I will go to London a lot more fitter and in better shape.
Have you any other message you want to get out to people involved in boxing or thinking of getting into the sport?
Just stick at it. You never know what you can achieve. I lost my first 15 fights, came back at it and am only starting to win now!
Alex Maskey has been awarded an honorary doctorate by LeMoyne College in Syracuse, New York, for his work on the Irish Peace Process.