2 July 2012 Edition
Protestant churches urge unionists to respond 'positively and constructively'
DIALOGUE WITH UNIONISM | SINN FÉIN'S RECONCILIATION INITIATIVE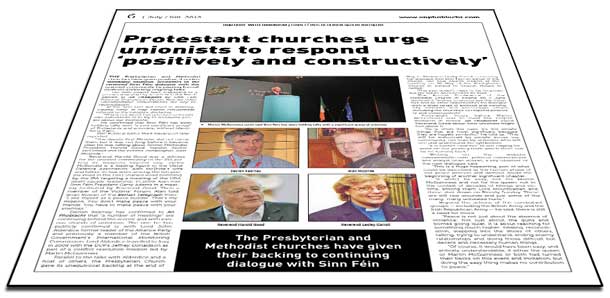 The Presbyterian and Methodist churches have given their backing to continuing dialogue with Sinn Féin
THE Presbyterian and Methodist churches have given positive, if understandably cautious, welcomes to the renewed Sinn Féin dialogue with the unionist community by passing formal motions endorsing ongoing talks.
The faith leaders have responded to a process energised by an article in the March edition of An Phoblacht by Sinn Féin National Chairperson Declan Kearney titled 'Uncomfortable conversations are key to reconciliation'.
At the Sinn Fein Ard Fheis in Killarney, County Kerry, in May, Martin McGuinness referred to the initiative, declaring:
"This is not about trying to turn unionists into nationalists or to try to hoodwink people about our intentions."
He confirmed that Sinn Féin has been holding talks with "a very significant group" of Protestants and unionists, without identifying them.
BBC Political Editor Mark Devenport later reported:
"The deputy First Minister did not name them but it was not long before it became clear he was talking about former Methodist President Harold Good, loyalist Jackie McDonald and the victims' campaigner, Alan McBride."
Reverend Harold Good was a witness for the unionist community to the IRA putting its weapons beyond use; Jackie McDonald is a leading figure in the Ulster Defence Association; Alan McBride's wife and father-in-law were among the ten people killed in the 1993 Shankill Road bombing by the IRA targeting a meeting of the UDA death squads' leadership. In 2009, Alan met Sinn Féin President Gerry Adams in a meeting facilitated by Reverend Good. Then a member of the Victims' Forum, Alan told Brian Rowan of the Belfast Telegraph then: "I see myself as a peace builder. That's my mission. You don't make peace with your friends. You have to make peace with your enemies."
Declan Kearney has confirmed to An Phoblacht that "a number of meetings" are continuing behind the scenes and with various strands of unionism. The one he has publicly confirmed is with Lord John Alderdice, former leader of the Alliance Party and previously a member of the British Government's International Monitoring Commission. Lord Alderdice travelled to Iraq in 2008 with the DUP's Jeffrey Donaldson as part of a conflict resolution mission led by Martin McGuinness.
Parallel to the talks with Alderdice and a host of others, the Presbyterian Church gave its unequivocal backing at the end of May to Reverend Lesley Carroll continuing her dialogue with Sinn Féin on behalf of the church. She told church leaders at the meeting on 30 May of the Presbyterian Church in Ireland in Church House in Belfast:
"The past doesn't need to be forgotten but the future does need to be built."
The Annual Conference of the Methodist Church in Ireland on 9 June declared it "wishes to encourage this initiative and all other opportunities for dialogue with a wide range of political and community interests and encourages others, including the churches, to respond positively and constructively".
Forty-eight hours before Martin McGuinness was to meet the English monarch in Belfast, An Phoblacht asked Reverend Good about how unionists might feel about it.
"As is often the case, it's the simple things that are most significant because they are hugely symbolic," he told us. "This will be welcomed by people across our community, not least by unionists who will see and understand the symbolism.
"It is further evidence of our edging forward on our journey from which there can be no turning back."
Writing on the website eamonnmallie.com, political commentator and analyst Brian Rowan, a key observer of the new dialogue, said:
"This is a huge happening, part of what could be described as the human phase of our peace process and without doubt the beginning of another significant chapter.
"It won't be easy, not for Martin McGuinness and not for the queen, not in the context of decades of killings and victims, among them Lord Mountbatten and those shot down on Bloody Sunday. These are still raw wounds and just some of the many, many unhealed hurts."
Beyond the actions of the combatant groups — including the British Army and the Irish Republican Army — he said, there is still a need for more.
"Peace is not just about the absence of violence; not just about the guns and bombs going quiet. It is about reaching for something much higher: healing, reconciliation, stepping into the shoes of others, talking, trying to understand, ending enemy relationships and doing those difficult but decent and necessary human things.
"Of course, it would have been easy, and entirely understandable, if either the queen or Martin McGuinness or both had turned their backs on this event and invitation, but doing the easy thing makes no contribution to peace."