20 June 2012
British Govt rejects inquiry into Ballymurphy Massacre – Families appeal to Taoiseach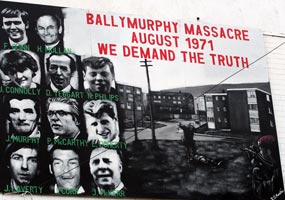 Inquiry into killing of 11 civilians in Belfast by British Army 'not in the public interest' says British Government
THE families of ten people shot dead by the British Army in the Ballymurphy area of Belfast in August 1971 have been told there will be no independent investigation into the killings because it is "not in the public interest".
The ten include a mother of eight and a priest.
In the three days following the introduction of internment on 9 August 1971, the British Army's Parachute Regiment went on a shooting rampage through the nationalist Ballymurphy estate in Belfast. Ten unarmed civilians were killed, many of them shot in the back. Another man died of a heart attack after a confrontation with troops during which soldiers placed an unloaded gun in his mouth and pulled the trigger.
Six months after the massacre, the same British Army regiment was responsible for the gunning down of 14 unarmed civil rights protesters in Derry, on 30 January 1972.
In both cases, the Paras claimed they returned fire after being fired at first. This was proven to be untrue for Bloody Sunday and has also been discredited by dozens of witnesses to the Ballymurphy Massacre.
British Secretary of State for the North Owen Paterson says there will be no independent inquiry into the killings as it is "not in the public interest".
A spokesperson for the Ballymurphy Massacre families rejected the British minister's view.
"It is clearly in the public interest that the full facts relating to the circumstances of the deaths of our loved ones and the role of the British Parachute Regiment is fully established.
"This is especially so given the recent findings of Lord Saville in relation to the events of Bloody Sunday and the disclosure in official British Government documents which reveal evidence of immunity for British soldiers involved in the murder of innocent civilians."
The families now want a meeting with British Prime Minister David Cameron. Cameron has previously refused to meet them.
The Ballymurphy families have also called on Taoiseach Enda Kenny to back their campaign.
West Belfast Sinn Féin MLA Pat Sheehan says the Ballymurphy families have been treated with the utmost disrespect by the British Government.
"The fact that it was the same British Army regiment that carried out the Bloody Sunday killings adds weight to the need for a full, independent investigation."
An Phoblacht on Twitter

An initiative for dialogue 
for reconciliation 
— — — — — — —
Contributions from key figures in the churches, academia and wider civic society as well as senior republican figures