25 May 2012 Edition
Left MEPs in Dublin to say 'NO' to Austerity Treaty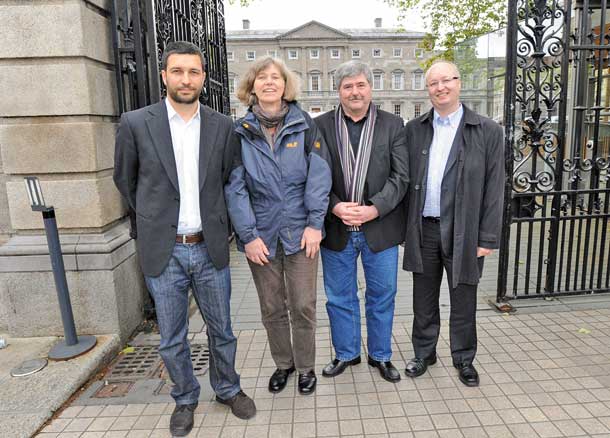 People all over Europe are fed up with austerity. Cuts cannot solve this crisis
MEPs from the European United Left/Nordic Green Left (GUE/NGL) group in the European Parliament visited Dublin ahead of the Fiscal Austerity Treaty referendum on 31 May to declare the treaty would be a "catastrophe for Europe".
German MEP Sabine Wils said:
"This treaty is about shifting wealth from the poor to the wealthy. People in Ireland are not and will not be isolated. We are here to show our solidarity with all those fighting this austerity treaty." 
João Ferreira (Portugal) called the treaty "the impoverishment treaty that will bring further instability especially to peripheral countries". 
He added: "An Irish NO would strengthen the movement for a real solution to the crisis."Danish MEP Søren Søndergaard said:
"The Irish people will be voting for all of us in Europe who will not have a say on this treaty. This proposal will be a catastrophe for Europe and for democracy."
Mikael Gustafsson (Sweden) said:
"People all over Europe are fed up with austerity. Cuts cannot solve this crisis."
Irish MEP Paul Murphy said Finance Minister Michael Noonan's comment that the country is the only EU member state that could secure public support for such a referendum "shows the massive democratic deficit across the EU and shows the arrogance of those campaigning for this treaty".
Citing shocking youth unemployment figures from across Europe, Sinn Féin Foreign Affairs spokesperson Pádraig Mac Lochlainn said:
"Irish people are not alone. We have a chance to stand with people from all over Europe. That's the message we're sending today with this delegation of MEPs."