25 May 2012 Edition
Schools pack launched by republican and loyalist ex-prisoners
CONFLICT RESOLUTION AND EDUCATION | 'FROM PRISON TO PEACE' IRISH-LANGUAGE VERSION NOW AVAILABLE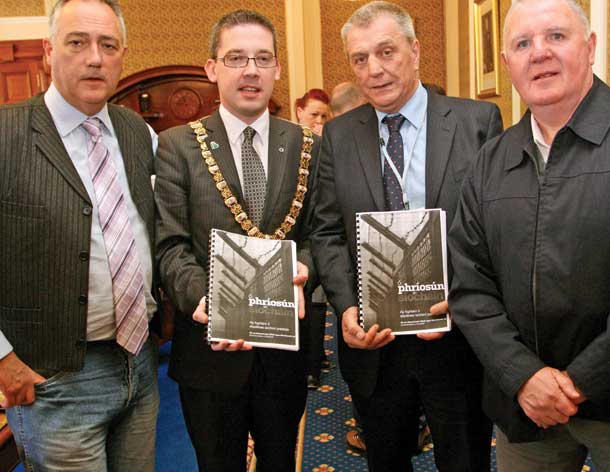 'Young people are eager to listen to what ex-prisoners have to say as an honest, grounded perspective of the conflict, its impact and legacy and about conflict transformation'
IT WAS an eclectic audience that gathered in the Mayor's Parlour at the invitation of Sinn Féin Mayor Niall Ó Donnghaile for the launch of the Irish-language edition of the 'From Prison to Peace' education pack on 11 May.
Ex-prisoners representing both republican and loyalist ex-combatant groups mingled with each other and various academics as they listened to Sinn Féin Education Minister John O'Dowd praising the latest edition of the From Prison to Peace education pack.
What made the occasion more significant was the fact that this latest edition of the pack had been produced in Irish and was getting the thumbs up from Jackie McDonald and Colin Halliday of Charter Regional, the organisation representing former UDA prisoners.
Also at the launch, representing former INLA prisoners, was Belfastman Seamus McHenry, while Portadown man Roderick Dunbar was there on behalf of 'Official IRA' prisoners.
Alongside Jackie McDonald stood Séanna Walsh from Coiste na n-Iarchimí.
Coiste's Danny Murphy, the organisation's Youth Development Co-ordinator, who played a central role in producing the resource, chaired the event.
In his introduction, Danny Murphy stressed that one of the main objectives of the pack is to "demonstrate to young people alternative ways of dealing with conflict which do not require individuals to give up their political aspirations".
He was full of praise for the Department of Education and the Education and Training Inspectorate who gave the project its full backing and recommended that all schools should avail of the resource.
"Over the years, ex-prisoners have been involved in debate and discussion about the conflict and, given our experiences, we have a unique contribution to make to understanding conflict and exploring ways out of it.
"Ex-prisoners have engaged with each other and have discussed the various issues around the conflict with young people. Students are hungry for knowledge so Coiste, in conjunction with other groups representing former prisoners and ex-combatants, worked to produce a pack aimed at 14 to 16-year-olds.
"We want to introduce the programme in schools across the North as a living history programme and use it with students in the hope that they would learn from our experiences.
"We want to work with young people and emphasise the importance of political action. So with the support of the Department of Education we were able to bring the pack into schools.
"We have 120 teachers trained to deliver the programme and it's having a positive impact. Young people are eager to listen to what ex-prisoners have to say because they see it as an honest, grounded perspective of the conflict, its impact and legacy but, more so, they are keen to hear what ex-prisoners have to say about conflict transformation."
According to Séanna Walsh, the Prison to Peace programme fits into Coiste's legacy work, which focuses on supporting political ex-prisoners in dealing with the legacy of conflict and imprisonment on their lives.
"It also focuses on outreach work which involves opening up conversations with victims groups, trade unions, the business sector, Protestant churches and unionists."
The pack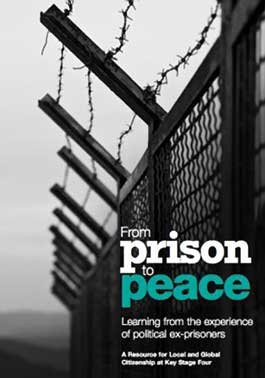 THE 70-page resource is targeted at the Key Stage 4 (age 14-16) curriculum for citizenship education but is also written in such a way that it can be used in community group/youth settings.
Based on the narratives of 15 political ex-prisoners, it provides an opportunity for young people to explore issues relating to the conflict in the North, its legacy and the transition to peace from the perspective of political ex-prisoners.
From Prison to Peace aims to increase young people's knowledge of the reality of the experiences of political ex-prisoners and, in particular, to demythologise the prison experience.
It also employs a range of active learning methodologies to enhance and develop young people's key skills.
Furthermore, in accordance with the principles of citizenship education, the resource encourages critical reflection on these issues and provides opportunities for young people to consider how they play a positive role and make a positive contribution to their communities.
And now as the resource has been produced in Irish, it can be delivered in Irish-medium schools.