25 May 2012 Edition
Martina Anderson selected as new MEP
DERRY CONVENTION HEARS TRIBUTES TO OUTGOING MEP BAIRBRE DE BRÚN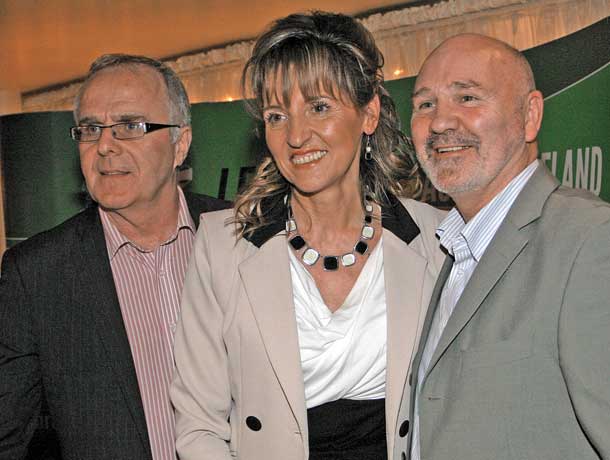 'Our involvement has never been about a career; it is about our strategy, struggle and people, about equality and human rights and social justice' – Martina Anderson
THE packed conference hall of the Waterfoot Hotel in Derry was full of goodwill for Martina Anderson on Thursday 17 May as she was chosen to replace Bairbre de Brún as the Sinn Féin MEP representing the Six Counties.
Martina's selection now needs to be ratified by the Sinn Féin Ard Chomhairle and the European Parliament before she can take her seat. She will consequently relinquish her post as a junior minister in the Office of First and Deputy First Minister in the Assembly.
The party convention was also addressed by Sinn Féin MP Martin McGuinness, who endorsed Derry MLA Anderson, the sole nominee, to replace Bairbre who recently stood down for health reasons.
Donegal TD Pádraig Mac Lochlainn chaired the convention and expressed the general view of the delegates when he commended Anderson for her work and commitment over 30 years as a frontline activist.
Accepting the nomination, Martina Anderson described outgoing MEP Bairbre de Brún as "a friend and a leader who has left big shoes for me to fill", adding:
"She is a household name, she has made a valuable contribution to our struggle and will do so again — and she will be a hard act to follow."
In a reference to the challenges such a role has not just for the person in the job but those around them, Martina acknowledged the unstinting support of her family, including "my friend, comrade and husband, PK".
The ex-prisoner said she looks on the European Parliament and the wider European stage as "another site of struggle". In an emotional address, she said: 
"As I look around this room, I see a number of people who have experience and who could equally take on this role. I also see the relatives and friends of our fallen comrades — the men and women who brought this struggle to where we are now, who we carry in our hearts no matter where we are in the world.
And as I narrow down my gaze to look particularly at the Derry ones - I see the important contribution that we in this city are making to our party and struggle and, like everyone in this room, no part is too great or too small."
Listing the numbers and names of the considerable talent that Derry still gives to the republican cause, she pointed out:
"For all of us, our involvement in whatever site of struggle — community, locally, nationally or internationally — our involvement has never been about a career; it is about our strategy, struggle and people, about equality and human rights and social justice."
Endorsing Martina's candidacy, Martin McGuinness reflected on the contribution and accomplishments of Bairbre de Brún MEP, stressing that her expertise and experience will not be lost to the party.
"Martina and Bairbre share some similar attributes: strong women, strong character, focused, diligent, committed and always showing a willingness to serve the party and indeed the struggle in whatever capacity is asked.
"Martina has been involved with the republican struggle for over 30 years. Like Bairbre, Martina has also served in many capacities. Following her release from prison she immediately immersed herself in party activity, promoting the political and peace strategy being developed by the republican leadership.
"Martina has been an exemplary minister and a great source of support to me in my position as deputy First Minister. Now, because of unforeseen circumstances and Bairbre's personal decision to step aside as MEP, Martina once more finds herself catapulted into new territory and an even bigger challenge."
While she will carry out her duties as MEP working with the Ulster Unionist Party and Democratic Unionist Party representatives on behalf of all the people of the Six Counties, he said, "I have no doubt that she will bring an all-Ireland focus to the position."
He emphasized that Martina will be working with the GUE/NGL Group, "the main opposition to the austerity agenda of right-wing parties in the European Parliament".
"I know that our strategy will be in good hands with Martina and I wish her all the best in her new challenge. As with each role she has taken on, I have no doubt that she will be a driver of change in Europe.
"Comhghairdeas agus ádh mór ort, mo chara."