5 May 2012
Anti-Treaty Diary, May 5th – Painting the picture
'There isn't that same reason to risk getting b*****ked on the doorstep' – Fine Gael minister on the trouble getting members to canvass for a 'Yes'
INTERNATIONALLY-ACCLAIMED ARTIST and campaigner Robert Ballagh painted the picture for RTÉ Radio listeners on Saturday of what passing the EU Austerity Treaty will unveil for Ireland.
Ballagh – who has designed everything from Ireland's banknotes and stamps to the set for 'Riverdance' – also famously reworked Eugene Delacroix's 'Liberty Leading the People' (La Liberté Guidant le Peuple), painted in 1830 to commemorate the French Revolution earlier that year (Ballagh's interpretation pictured above).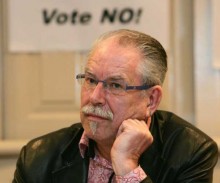 Ballagh is supporting the French Presidential election 'revolution' as François Hollande leads incumbent Nicolas Sarkozy in opinion polls going into the run-off on Sunday. But the Irish artist says he's puzzled by speculation that a victory by Hollande could dramatically change the treaty Irish people are voting on.
"How can you graft a growth strategy onto a treaty based on austeirity?"
Anti-treaty forces take Galway
THE anti-treaty rebellion within Fianna Fáil against the EU Austerity Treaty is spreading. Three councillors from TD Éamon Ó Cuív's home county of Galway have joined him to call for a 'NO' vote.
The grassroots turmoil in Fianna Fáil is now coming to a head as Míchaél Martin confirmed that Ó Cuív will not face disciplinary proceedings for going against the party line,. Martin obviously  fears further splitting the 'Soldiers of Destiny' on Irish sovereignty.
Pro-treaty troops won't come out of the trenches
FINE GAEL is also facing mutiny in the ranks as mainstream media reports say that members are refusing to obey orders and canvass door-to-door in favour of the Austerity Treaty because of the hostile reaction expected from the public over the recession cuts.
The imposition of the Household Charge and water meters have left the Fine Gael foot soldiers fearful of the backlash.
One unnamed Fine Gael minister told the Evening Herald: "For a general election there is a motivation, they want their local politician elected, but in this case there isn't that same reason to risk getting b*****ked on the doorstep."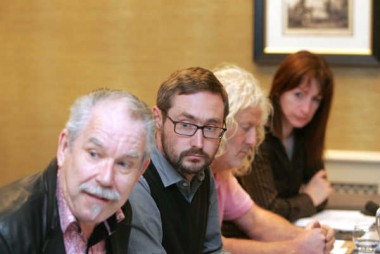 Bobby with Sinn Féin's Eoin Ó Broin at an anti-treaty press conference for the Campaign Against Austerity Treaty this week. The campaign includes TDs, trade unionists, civil society groups and community activists. Also at the press conference were Sinead Kennedy (People Before Profit), Mick Wallace TD (Independent) and Clare Daly TD (Socialist Party)