1 May 2012
Anti-Treaty Diary, May 1st – Fine Gael's frighteners
A key Fine Gael campaign strategy will be to 'put the frighteners on the electorate' – Sunday Independent
The shambolic Government referendum campaign has been pushed into further chaos in the wake of claims that a key Fine Gael campaign strategy will be to 'put the frighteners on the electorate'
–      Sunday Independent
'Vote Yes . . . or else,' says Government growler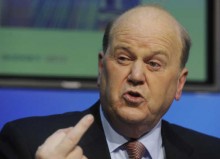 PUTTING THE FRIGHTENERS on the public from the off is Finance Minister Michael Noonan. He's threatened hard-pressed taxpayers and service users that if they don't vote 'Yes' then he'll turn the thumbscrews on them with an excruciating Budget afterwards and pile on the pain with even more cuts.
"If there's a 'NO' vote, the Budget I'll be planning for later in the year will be dramatically more difficult than if there's a 'Yes' vote," Noonan growled in the first 24 hours.
Dev Óg's treaty revolt
DEV ÓG, grandson of Eamon De Valera, has joined the anti-treaty side in the EU referendum.
Éamonn Ó Cúiv lost the deputy leadership over his opposition to the Fiscal Austerity Treaty and now he's broken ranks again to urge people to vote 'NO'.
What's more, Ó Cúiv has accused Fianna Fáil leader Mícheál Martin of being a "Europhile" and having a "blinkered" view of Europe. Fianna Fáil HQ's line, he says, is at odds with the rank and file in the Soldiers of Destiny.
"I would reckon at this stage that my views [on advocating a 'NO' vote] are shared by a very, very large number of grassroots members of Fianna Fáil if not the majority of them. I'm not out of tune on this."
Shop-owners chuck out 'political liars' – Vote NO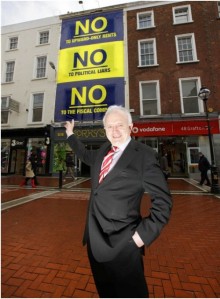 RETAIL TENANTS drowning in the tide of upward-only rents have called for a 'NO' to the Austerity Treaty.
Irish Commercial Tenants Association rep John Corcoran (pictured here) said the treaty "will not create jobs in Ireland and will further place the burden of austerity on Ireland for years to come".
He also unveiled a massive banner on Dublin's Grafton Street which reads: "No to Upward-only rents, No to political liars, No to the Fiscal Compact."
Labour and the Cloak of Invisibility
THE Labour Party looks like it wants to borrow Harry Potter's Cloak of Invisibility during this referendum campaign with its disappearance from not one but two debates within 24 hours of the official start.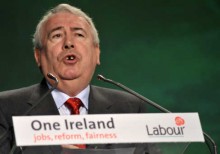 Under the penetrating stare of Vincent Browne, Sinn Féin deputy leader Mary Lou McDonald TD and Socialist Party TD Joe Higgins are stepping up to the plate on the TV3 live debate tonight (9pm) for the 'NO' side. They're up against the pro-Treaty forces of Fine Gael and Fianna Fáil but the Labour Party has apparently not nominated anyone. Not even Joe Costello.
And Labour has so far shied away from a public debate in Wicklow next week up against Sinn Féin Councillor John Brady and the ULA. Mind you, Fine Gael are being coy about that one too.
An Phoblacht on Twitter

An initiative for dialogue 
for reconciliation 
— — — — — — —
Contributions from key figures in the churches, academia and wider civic society as well as senior republican figures