2 June 2010 Edition
PPS 21 requires further improvement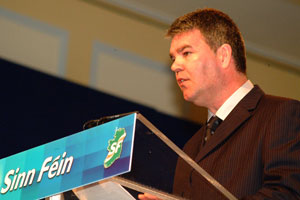 Following the publication today of the final building and environmental legislation on PPS 21, Sinn Féin Planning Spokesper-son, Cathal Boylan, MLA, said it needed further improvement. After an exchange with the Minister, Boylan said, "This revised policy provides increased opportunities to develop in the countryside. The new policy proposals includes less restrictive personal and domestic circumstances, building within existing clusters and a clearer definition of criteria for gap sites, as well as an opportunity to develop away from farm clusters. It is also proposed that a new Rural Design Guide is due to be published in the Autumn.
"But there is still much work to be done to ensure the sustainability of our rural communities. All sectors of the rural community should be given the opportunity to apply for planning to enable them to live in the countryside."
Boylan added that the issue of the non-farming rural dweller still needs to be addressed by the Department, and local councils should be given powers to determine the number of single dwellings within their own rural areas.
"I welcome very much the idea that the Ministerial sub-group will be reconvened and that the outstanding issue of the non-farming category will be explored. Sinn Féin looks forward to working with the Committee and the Minister to ensure the policy is improved to that affect.'
The Newry and Armagh Assembly member continued:
"Whilst there are improvements in this revised policy, I still have concerns about the redeployment process and possible implications for delivery of a fit for purpose Service.
"I welcome the stated intention of the Minister to meet with the Unions today in order to discuss these concerns and hope that these discussions can present possibilities for the delay of redeployment of personnel in the short term."