13 May 2010 Edition
Cameron Prime Minister as Brown resigns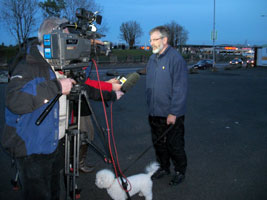 The aftershock of a hung parliament in Britain finally came to a conclusion this week with Gordan Brown falling on his own sword in an attempt to secure a Labour/Liberal Democrat coalition. In the end his political sacrifice amounted to nothing as the Lib Dem's backed the Conservatives and made David Cameron Prime Minister.
Commenting on Tuesday evening Sinn Féin President Gerry Adams said:
"As Irish Republicans we obviously believe that British government rule in Ireland is wrong and should end. We have also been actively opposed to the wars and occupations in Iraq and Afghanistan carried out by the Labour government.
"However as 13 years of this Labour administration comes to an end it is important to acknowledge the contribution which the governments of Tony Blair and Gordon Brown made to the development of the Irish Peace Process.
"When Labour came to power in 1997 it was in the wake of the previous Tory government squandering the opportunity for peace generated by the first IRA cessation. Tony Blair's contribution to the establishment of inclusive talks and the Good Friday Agreement they delivered was significant. Likewise, Gordon Brown's contribution at Hillsborough earlier this year.  I wish him well.
"The establishment of the Tory/Lib Dem government follows some days of absolutely silly speculation by MPs from the other parties here as they once again exaggerated their own influence at Westminster. It is obvious they didn't know what they were talking about.
"The Sinn Féin focus in the coming days and weeks will be to achieve the best possible block grant and to unite with others to oppose proposed cuts to frontline services by the new British Tory/Lib Dem administration. The Executive must prepare itself for that task."