13 May 2010 Edition
Free Gaza Campaign launch ship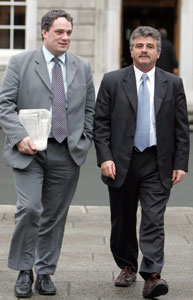 The MV Linda was rechristened as the Rachie Corrie, in Dundalk port on Wednesday morning, at a ceremony attended by several Sinn Féin representatives including Aengus Ó Snodaigh and Arthur Morgan.  The ship was named in honour of of the young American human rights activist who died during a non-violent protest to stop Israeli forces bulldozing Palestinian homes in the Gaza strip during 2003.
The vessel was sold at auction in Dundalk on Tuesday, March 30th, after being seized by the High Court on behalf of the ITF because the crew had been abandoned without pay and with only one day's food supply on board. A crowd gathered on Wednesday to watch the renaming and wish the vessel fair wind as it sets sail for Gaza.
The rechristening of the MV Linda as the Rachel Corrie in Dundalk port today represents a new beginning as the vessel becomes a symbol of international solidarity instead of exploitation of seafarers", International Transport Workers Federation inspector Ken Fleming, of SIPTU, told the Friends of Gaza and others gathered to wish it fair speed.
"The 40 year old, 1,800 tonne Rachel Corrie is in excellent shape and is ideal for the shipment of urgently needed medical, educational and construction supplies to the Gaza strip", Mr Fleming added.
Built in a German yard the ship began life as part of the Guinness fleet. It was purchased by the Free Gaza Campaign for €70,000, which enabled ITF Inspector Ken Fleming to pay the crew their arrears. Unfortunately a significant amount of navigational equipment worth between €15,000 and €20,000 was stolen from the vessel while it was in Dundalk port and has not been recovered.
 "It is very regrettable that such a despicable act took place here in Ireland", Mr Fleming said. "It added to the cost and time needed by the Friends of Gaza to refit the ship. Fortunately it is now ready to sail as the Rachel Corrie. All of us in the ITF and in SIPTU here in Ireland wish her and her crew a successful and a safe voyage."
Sinn Féin's Aengus Ó Snodaigh will join the ship in the Meditterean on 23 May and sail on it to Gaza.
The MV Linda getting loaded in Dundalk port