13 May 2010 Edition
Sinn Féin secures progress in head shop campaign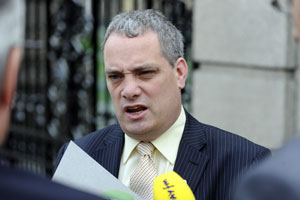 The Government announced on Tuesday new measures to immediately criminalise the sale of legal highs, signaling a partial victory in the Sinn Féin campaign against head shops.
The ban makes it illegal to buy or sell Mephedrone, also known as Snow or Blow, spice products and chemical substances which mimic cannabis, cocaine and ecstasy.
Minister for Justice Dermot Ahern published the main parts of the new Criminal Law Bill, which makes it illegal to sell hallucinogenic products.
The Psychoactive Substances Bill will also allow garda' to seek a court order to close head shops suspected of selling drug-like products with the onus on the owners to prove they are not.
After a determined campaign to change the activities of head shops, Sinn Féin Spokesperson for Justice Aengus Ó Snodaigh TD welcomed the news, but warned the Minister for Justice Dermot Ahern that head shop legislation must be fast- tracked to avoid an increase in dangerous incidents during summer holidays. Ó Snodaigh criticised the Minister saying he had been dragging his feet on this issue for months and that the legislation needed to be published immediately and brought before the Dáil this month.
"I welcome the fact that the Minister is finally moving to bring in legislation to crack down on head shops," he said. "Sinn Féin has published a bill to tackle this issue which we gave to government. I hope that some of this has been taken into account in the proposals that the Minister is now bringing to cabinet. Dermot Ahern should immediately publish the legislation he is bringing to cabinet so that opposition spokespeople can examine whether it is sufficiently robust.
"I am seriously concerned that the timeframe the Minister is indicating for this Bill which would not see it come into law until end of the summer. There is a real concern about the welfare of school children and teenagers during the summer months. It is also clear that these shops are selling the dangerous substances in question to children without any monitoring of their customers' age."