13 May 2010 Edition
No seat beyond reach - Sinn Féin is North's largest party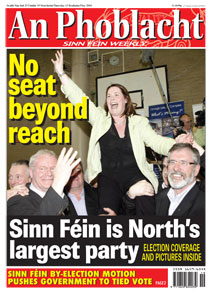 Good election for Sinn Féin, good election for politics

BY LAURA FRIEL

"As Bobby Sands said, everyone has a part to play no matter how small. This seat was won by four votes, the few minutes it took those four people to cast their vote secured this victory," a jubilant Michelle Gildernew declared as she was announced as MP for Fermanagh and South Tyrone.
"It's not so much they voted for Sinn Féin but that they told us so. They said it was because Sinn Féin had done more for them than the unionist parties. I don't want to exaggerate this. It is small, but it is significant," said Gerry Adams, speaking about members of the unionist community in his constituency who voted Sinn Féin.
Whatever way you look at it, last week's Westminster election in the north resulted in a clear endorsement of moving forward and a resounding rejection of anti-Agreement elements, whether in the guise of Orange unity candidates, or emanating from the TUV or even the gesture politics of the dissidents.
And as the results rolled in, Sinn Féin could tick off a list of achievements, polling as the largest party in the north, securing the highest personal poll for party President Gerry Adams, increasing Sinn Féin's percentage vote in almost every constituency while seeing off a retrogressive challenge in Fermanagh and South Tyrone.
"It was a good election for Sinn Féin," the party's Director of Elections, Gary Fleming, told An Phoblacht. "The campaign targets we set were achieved and Sinn Féin successfully returned five seats as well as emerging for the second time as the largest party in the north.
"In West Belfast Gerry Adams confounded his critics by once again achieving the highest personal vote in the election, even outpolling the Paisley dynasty by some 3,000 votes and securing the seat with a massive 17,578 majority," said Gary.
Speaking after he was elected, Adams referred to the media and recent attempts to erode support for the Sinn Féin leadership. "There have been a lot of lies and untruths but people have made up their minds and decided I was good enough to represent them and I feel humbled by that," said Adams.
"Of course Gerry Adams has such established  and widespread support in West Belfast that there is less room for improvement but nevertheless Sinn Féin still managed to increase its share of the vote in the constituency," said Gary.
"However there was a small but notable development in West Belfast. A number of votes for Sinn Féin were amongst boxes coming from Blacks Road and the Shankill. Their numbers may have been small but that doesn't take away from the significance of people from unionist communities voting Sinn Féin.
"During the election campaign Gerry met people outside a school in the Blacks Road area and as well as bread and butter issues, he was asked how Sinn Féin would safeguard the rights of people from the unionist community within a united Ireland framework. People were looking forward and with greater confidence," said Gary.
"Compare Sinn Fein's vote in West Belfast with the vote in Belfast's four other constituencies and you get a real sense of Sinn Fein's strength within the city. Belfast was once a bastion of unionist power, now the only unionist MP elected in the city, Nigel Dodds, has Sinn Féin's Gerry Kelly snapping at his heels with only a couple of thousand votes to close the gap," said Gary.
"In Belfast the sense of changing times has been compounded by the failure of the DUP to hold onto East Belfast. For over three decades the seat was held by a seemingly unchallengeable Peter Robinson. After Paisley, Robinson was one of the most prominent unionist figures of our time.
"Commentators have pointed to personal and property scandals as having engulfed the political fortunes of the Robinsons; the old story of sex and money, but that alone doesn't explain the election of Alliance's Naomi Long."
"Naomi is local, hard working and importantly, non sectarian and forward-looking. If they simply wanted to punish Peter Robinson, voters in East Belfast could have voted for UCUNF or TUV; they didn't and that has to be significant," said Gary.
In South Belfast, Alasdair McDonnell of the SDLP was elected after Sinn Féin's Alex Maskey stood aside in the interests of defending two nationalist seats, the other being Fermanagh and South Tyrone.
Unfortunately recently elected SDLP leader Margaret Ritchie was unwilling to reciprocate, leaving Sinn Féin to take on the combined forces of unionism with a potentially divided nationalist vote.

"The Fermanagh and South Tyrone constituency is very important to republicans because of its historic ties with Bobby Sands and the hunger strike. In this election the fielding of a unity candidate on the back of a deal struck in an Orange Hall was a direct challenge to political progress and all that entails," said Gary.
"The SDLP dismissed Sinn Féin's determination to challenge that sectarian agenda by characterising defending equality and power-sharing as somehow sectarian. But despite the fact that the SDLP was sending out that misleading message, the vast majority of nationalists in Fermanagh and South Tyrone remained clear headed and supported the only progressive candidate with a viable chance of securing the seat, Michelle Gildernew."
Evenly split between unionists and nationalists, Fermanagh and South Tyrone is the most marginal constituency in the north. It can boast some of the highest turnouts and some of the most tightly contested elections.
"We designated Sinn Féin's election campaign in Fermanagh and South Tyrone a national project and I have to commend all the people who worked so hard to get Michelle elected," said Gary. "Sinn Féin as a party is hardworking, a fact even acknowledged, if somewhat begrudgingly, by our opponents. As Director of Elections, I have to say that throughout the north Sinn Féin personnel and supporters worked with outstanding commitment."
In Fermanagh and South Tyrone, the first count went to the unionist unity candidate Rodney Connor with a majority of eight votes, while the first recount gave it to Michelle Gildernew with a majority of ten votes. A third and final count confirmed Michelle's victory with just a four-vote majority.
 "In the end the SDLP decision not to cooperate with Sinn Féin in Fermanagh and South Tyrone was based upon selfish interests because they were fearful of jeopardising a tactical anti-republican vote by some unionists in South Down and Foyle," said Gary.
"Sinn Féin's Caitriona Ruane polled strongly in South Down and Martina Anderson polled equally well in Foyle but both seats went to the SDLP."
Meanwhile, Sinn Féin's chief negotiator and the Assembly's Deputy First Minister, Martin McGuinness, was comfortably returned as MP for Mid Ulster.
"Martin polled over half of the votes in Mid Ulster, outstripping his closest rival with a majority of over 15,000. Once you've secure such a massive margin it's difficult to improve but Martin increased his poll by almost 4.5%, which was great," said Gary.
"West Tyrone was the first constituency to declare and it was a substantial win for Sinn Féin. Pat Doherty polled almost three times more votes than his closest rival, winning the West Tyrone seat for the third consecutive time and increasing his vote by an impressive 9.5%."
"Another strong result was in Newry and Armagh, where Sinn Féin's Conor Murphy took 42% of the poll, securing the seat with a comfortable majority of over 8,000. Seats aren't simply won during election campaigns but are more often down to the hard work carried out between elections. Sinn Féin's record within a constituency makes all the difference," said Gary.
But if the elections proved to be good for republicans, it was more than difficult for unionists. For Peter Robinson, the loss of the East Belfast seat, which he had held for over 30 years, left the DUP leader's political future hanging in the balance.
The failure of the UUP to secure any seats not only torpedoed the ill-judged UCUNF project, but also cast adrift party leader Reg Empey. Speaking shortly after Empey lost out in South Antrim to DUP stalwart Willie McCrea, fellow unionist David McNarry described the UUP leader as "finished".
While the TUV failed to attract any significant support for its anti-power sharing, anti-peace process message, the demonstration of its irrelevance was only topped by the temporary disruption of the Derry count while a pipe bomb left outside was defused.
"The TUV was the dog that failed to bark. In North Antrim TUV leader Jim Allister conceded defeat as soon as it became clear that Ian Paisley Jnr was outpolling him by almost three to one. Other TUV candidates fared even worse. It's clear from the results of this election that rejectionist unionism has been shown the door," said Gary.
"With the exception of Peter Robinson, the DUP succeeded in bringing their electorate with them in the wake of the Hillsborough Agreement. This is significant because we now have the vast majority of unionism backing political progress and supporting the power sharing institutions."
LEADERSHIP: A good election for Sinn Féin 
PILES OF VOTES: Sinn Féin supporters welcoming Gerry Adams victory 
SPEECH: Michelle Gildernew is MP for Fermanagh and South Tyrone 
WAITING: Conor Murphy got a stong result in Newry and Armagh