6 May 2010 Edition
Cullinane launches Waterford job creation proposals on May Day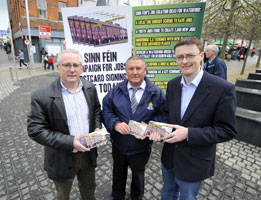 MAY DAY saw Waterford City Sinn Féin Councillor David Cullinane launch a set of proposals aimed at getting Waterford people back to work. Councillor Cullinane was joined by party activists in Waterford City on Saturday to celebrate International Workers' Day and to highlight the fact that so many people are needlessly out of work.
He said that it was "shameful and unnecessary" that 26,000 people across Waterford City and County are on the dole.
He pointed out that the Government is spending billions on the banks and next to nothing on getting people back to work. He identified four key areas where the potential to create jobs exist: Tourism, IT and the Digital Sector, Green Technology and Agri-business.  
Sinn Féin's key job creation ideas for Waterford:–
•    A local job subsidy scheme to save jobs
•    A youth jobs fund to create 2,000 new jobs in Waterford
•    Modernise CE schemes with new places and free ECDL advanced places
•    Develop a Waterford Green Technology Plan to attract FDI in renewable energy
•    Make Waterford a digital media leader
•    Promote tourism as a key economic driver for Waterford
•    Support a new generation of Waterford farmers and producers by investment in agri-business
•    Designate Waterford Institute of Technology as a University of the South-East  
Self-Employment for young people
A specific focus should be put on young people and self-employment.
Many of the young unemployed want to take control of their own destiny. They should be encouraged to do so. By following their passions, utilising the skills they have acquired, and turning them into enterprise, the future is in their hands.
This is the most effective way to encourage a better attitude to entrepreneurship in the city. We need to ensure that self-employment is a real option for some of the young unemployed.  
Proposals:
•    To ensure a culture of innovation among young people, secondary and VEC-led education needs to put far more focus on encouraging creativity, investigation and 'thinking outside the box'.
•    Engage local and existing business networks to help youth businesses by transferring their knowledge, experience and contacts. This can be done through mentoring, including them in their networks, bringing youth businesses into their supply chains or providing pro-bono advice and training.
•    Carry out audits or use data from existing skills audit relating to those under the age of 25 who are currently unemployed, identifying gaps between the skills of the unemployed and the skills required for those sectors of the local economy identified as potential growth areas.
•    Provide a personal literacy or numeracy tutor to anyone identified in the skills audit as having literacy or numeracy difficulties.
Looking beyond 'Destination Waterford'
The current strategic focus is on making tourism a key economic driver for the city. The recently-launched 'Destination Waterford' venture, in tandem with the new Waterford Crystal project and the Viking triangle plan, will undoubtedly position the city to maximise its potential in this important area. But is this enough? This is only one piece in the jigsaw and we need to develop other industries in the city such as: 
(1) IT Sector – Animation, gaming and digital media
This is an area where we have huge potential and obvious advantages. Waterford has the potential to be a digital media leader. It is recognised that Irish digital media firms are becoming a global force in particular niches such as mobile technologies, animation and digital video, gaming and film. Both animation and gaming are areas where new and creative industries can be developed with the help of Waterford Institute of Technology.  
Proposals:
•    Work with Waterford Institute of Technology to explore ways in which practical business, training and financial support can be given to those studying in this field with entrepreneurial potential.
•    Address potential skill shortages of those working in this field, particularly in the area of sales and marketing.
•    Prioritise start-up funding and premises to digital media start-up companies.
•    Promote and support web entrepreneurship.
 (2) Green Technology
One of the emerging industries internationally is in the area of green technology.
Waterford City is well placed to take advantage of this. Waterford IT has leapt forward in terms of their research focus in recent years and the Eco-Innovation Research Centre is one its three centres of excellence. To take full advantage of this, the city council should develop a 'City Green Tech Plan'. The plan could have as its core aim the need to optimise the availability of SEI and Science Foundation Ireland funding. Indeed, Science Foundation Ireland has grown dramatically the amount of research in R&D clusters around the state. Waterford City could become one of the country's leading areas in green technology.
Having a city green tech plan would focus our minds on practical things that we should be doing. It would encourage us to maximise the use of indigenous renewable energy such as wind, biomass and bio fuel, prioritise funding in local renewable energy projects and work with local education providers in maximising our potential in this area.
We could, for example, work with the local VEC to make free retraining opportunities available to unemployed tradespeople to qualify them as energy rating assessors, or in the installation of solar, wood-pellet, ground heating and mini-wind turbines, as well as energy-saving and insulation systems. The potential is endless and if we pull all of the stakeholders together we can position the city to emerge as a leader in the area of green technology.
Getting things done
So there are sections of the Waterford economy that have the potential to put local people back to work: sectors where we enjoy a natural advantage such as tourism, sectors where we have begun to build an emerging reputation through Waterford IT in the information technology,  digital and gaming sectors and sectors whose potential has not been tapped such as green technologies.
To reach our potential and kick-start our economy, we need to act locally and foster a new spirit of entrepreneurship which gravitates around getting things done.