6 May 2010 Edition
Adams puts pressure on PSNI over Fox murder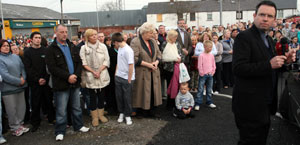 THE PSNI have admitted that they refused to act on a report of a fire on the bridge into Colin Glen on the night Lenadoon man Seamus Fox was killed in the early hours of Thursday morning, April 22nd.
Within hours of the report, Seamus Fox was attacked and beaten to death just yards from the PSNI's Woodbourne installation.
It is thought that Fox's killers may have been part of the gang of youths hanging around the fire, drinking and causing trouble.
The PSNI have also been criticised over their seeming unwillingness to deal with the ongoing problem of anti-community behaviour in the area around the Colin Glen, the Suffolk Road and the lower Lenadoon area.
When asked why they didn't act on the reports about the Colin Glen fire, the PSNI claimed they were "unable to attend because of operational reasons".
The revelations about the PSNI refusal to respond to the reports came just hours before Sinn Féin President Gerry Adams met with the PSNI to discuss the Fox killing.
MEETING
West Belfast MP Gerry Adams, Sue Ramsey, MLA and local councillor Gerard O'Neill have met the PSNI District Commander about community safety. They were accompanied by Gerry McConville from the Upper Falls Community Safety Forum.
While the focus of the meeting was the murder of Seamus Fox, Adams also raised wider concerns about the PSNI's inadequate response to anti-social behaviour in other parts of the constituency.
Speaking afterwards, the West Belfast MP said:
"I am very mindful that one person has been charged with the murder of Mr Fox and that due process must take its course.
"In our meeting we raised a number of issues around the PSNI response to the murder of Seamus Fox, including the failure to react to reports of anti-social activity on the Suffolk Road and in Colin Glen Forest in the hours leading up to the assault of Mr Fox.
"I am dissatisfied with the PSNI's response to me today.
"Sinn Féin is concerned to ensure that this murder inquiry is thorough and that the Fox family are kept informed of all developments."
The West Belfast MP added that there is also a widespread concern at the "less than adequate response" of the PSNI to anti-social behaviour in west Belfast, particularly in the Lenadoon, the Falls and St James's areas.
"While community and voluntary groups are working hard in these areas," Gerry Adams said, "there are justifiable concerns that the PSNI response is insufficient.
"I share these concerns.
"Sinn Féin will be pressing for greater co-operation and more effective programmes of work to tackle anti-social problems."