29 April 2010 Edition
Minister John Gormley has the power to save Easter Rising site, say TDs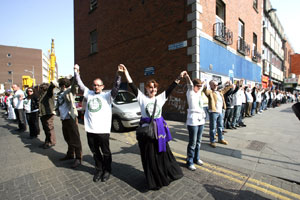 TWO TDs who secured the support of 25 Oireachtas members for an objection to the proposed Chartered Land development on Dublin's Moore Street have called on Environment Minister John Gormley to use his powers under legislation covering national monuments to stop the development, now approved by An Bórd Pleanála, which will irreparably damage this national site.
TDs Caoimhghín Ó Caoláin and Maureen O'Sullivan said in a joint statement:
"Numbers 14 to 17 Moore Street, the associated streetscapes and walkways, constitute a legally-designated National Monument, as the historic battle-site and final meeting place of the Provisional Government of the Irish Republic at Easter 1916.
"While this historic site has been designated a National Monument, the development company Chartered Land plans to level most of it apart from some outer walls of the four buildings. That is totally unacceptable and it would be an abomination if this key part of our heritage was displaced by a shopping mall.
"In January this year we secured the support of 25 members of the Oireachtas who lodged with An Bórd Pleanála a formal objection to the revised planning application from Chartered Land for their proposed major shopping mall development in the Moore Street/O'Connell Street area. This cross-party support was an indication of the strong feelings on this issue shared across the political spectrum.
"Now that An Bord Pleanála has approved the development and rejected the objections the ball is in the court of the Minister for Environment, Heritage and Local Government, John Gormley. He has a duty of care for all national monuments and is empowered to prevent any developments that would threaten or destroy them. He must act now to save this National Monument from destruction."