8 April 2010 Edition
Jim Monaghan - Always a step ahead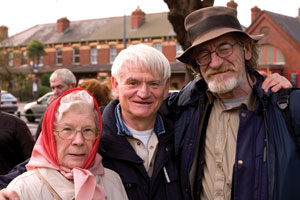 BY ELLA O'DWYER

Veteran republican Jim Monaghan will be honoured at the annual Sinn Féin Dublin South Central Dinner Dance next month. Although originally from Donegal, he spent many years living in the capital. "My father was from Fermanagh," Jim tells me, "and when the Second World War broke out he crossed the border and joined the Free State Army. At the time there was a fear that the Brits might reinvade so my father joined the army in order to be able to defend the country in such an event. In 1940 he was posted to Donegal."
When Jim was five he got asthma, so he spent a lot of time out of school, which meant he had plenty of time to read books that weren't on the curriculum. "These were various books belonging to my father," he says, "books on science and history. I had a natural inclination towards those subjects. I was also interested in guns and things military as a teenager and when I was 16 I joined the FCA (Irish Army reservists) and I learnt a lot in the process. Then in the mid-1960s I started to come across republican ideas, particularly with the 50th anniversary of the 1916 Rising in 1966."
A couple of years later Jim joined the IRA. "At the time I was part of an IRA unit in Dublin. I first came to the attention of the law after our unit participated in a colour party for an Easter parade. We were arrested after the parade so the gardaí became aware of our identities."
A bit unwise, I venture. "Yes, but orders were orders and things were done differently back then," he says.
Some time later the IRA in Dublin got infiltrated. "There was an agent provocateur called Joe Carey in the army. His purpose was to try to get operations carried out that would discredit the IRA. Carey came up with the idea of kidnapping The Book of Kells from Trinity College – the plan was rejected by the IRA.  
"Despite the army's decision, Carey, along with two other unknown people, went ahead with the plan but on the day they went to Trinity The Book of Kells wasn't on exhibition, so instead they took the Guinness Irish Harp – the  symbol for State documents. They cut off a string and sent it back to the museum each week until finally the agent was arrested. He was taken to Pearse Street Garda Station and charged with taking the harp, which was soon after recovered.
"A Garda Inspector  appeared for the defense and made a plea for Carey to be allowed to emigrate, as he had been working for the RUC and the Brits. Carey was given an 18-month sentence but when he wanted to blow the whistle on his handlers, the authorities had him locked up in St Patrick's mental hospital so as to discredit his statements."
After this event Jim had to go on the run and by 1969 he was working full time for the IRA. In early 1970 he was asked by Seán Mc Stiopháin to go to England to give some political talks with a view to raising funds to set up a newspaper – An Phoblacht. "I ended up getting arrested while I was there for possession of incendiaries," Jim says. And I thought he was only in England to talk.

Yes, but Jim was also using the time to upskill. "The incendiaries weren't for use at the time", he tells me, "I was just training myself in making them up." He was sentenced to three years.
Jim managed to continue up-skilling while in jail and he remembers, with some amusement, how the prison librarian in Wormwood Scrubs facilitated that. "The librarian in Wormwood Scrubs seemed to think I was some kind of reincarnation of Brendan Behan, so she was always very helpful when I was looking for books. One day I was wandering around the shelves in the prison library and I came across a book entitled UXB  – meaning Unexploded Bombs, written by a British Army bomb disposal expert. It made very interesting and informative reading."
In 1975 there was a raid on an IRA explosives factory in Donabate in Dublin. Jim went on the run again but in 1976 he was arrested in another IRA explosives factory in Athy, County Kildare. "I was charged for both factories – on a whole clatter of charges." He was sentenced to eleven years.
Jim, along with four other  POWs, was brought to Green Street court house for the trial, where they blew a hole in the wall of the building and broke out.  I wonder out loud how they got the explosives into the building. "Ah, that's a secret", Jim grins. "Three of us were recaptured and one got away. Before we were rearrested we had used a van in an attempt to get away. Funny enough, in recent years I was at a conference in Liberty Hall and this man came up to me and asked if I remembered him. I said I didn't. 'I'm the driver of the van you used that day you tried to get away from Green Street,' says he."
In 2001 Jim went to Colombia where he, along with Niall Connolly and Martin McCauley, was arrested. "I went over to Columbia to look at the peace process going on there between the government and the Farc. There were some parallels between the Irish situation and what happened over there. You had the government and its regime, who in effect were only representing the minority – the rich – and they were trying to appear like they had a democratic mandate. There was great respect and comradship shown to us from the other prisoners we met."
On the current situation, Jim believes we are making progress in the North but could do better in the South. "In the North you have a different dynamic. There is a process of  dismantling the old structures and the culture of colonialisim happening there.
"In the South you don't have that dynamic."
Jim, along with Rose Dugdale, for long worked in Sinn Féin's Education Department and he's very much in favour of republicans keeping a record of our history. "Those who fought the war should be the ones to write our history,"  he says.
Since his release from jail in Colombia Jim published a book entitled Colombia Jail Journal. He also had the experiences of a Colombian prisoner published in this country in a book entitled Diego. The Irish translation of Diego was the subject of questions on this year's Higher Level Irish mock Leaving Cert, a surprise for Jim's son when he opened the exam paper.  From reading non-curricular material as a youngster, Jim has made inroads on the Irish curriculum, in more ways than one.
Columbia 3 – Jim Monaghan, Martin McAuley and Niall Connolly inside a Columbian jail